Art in the Space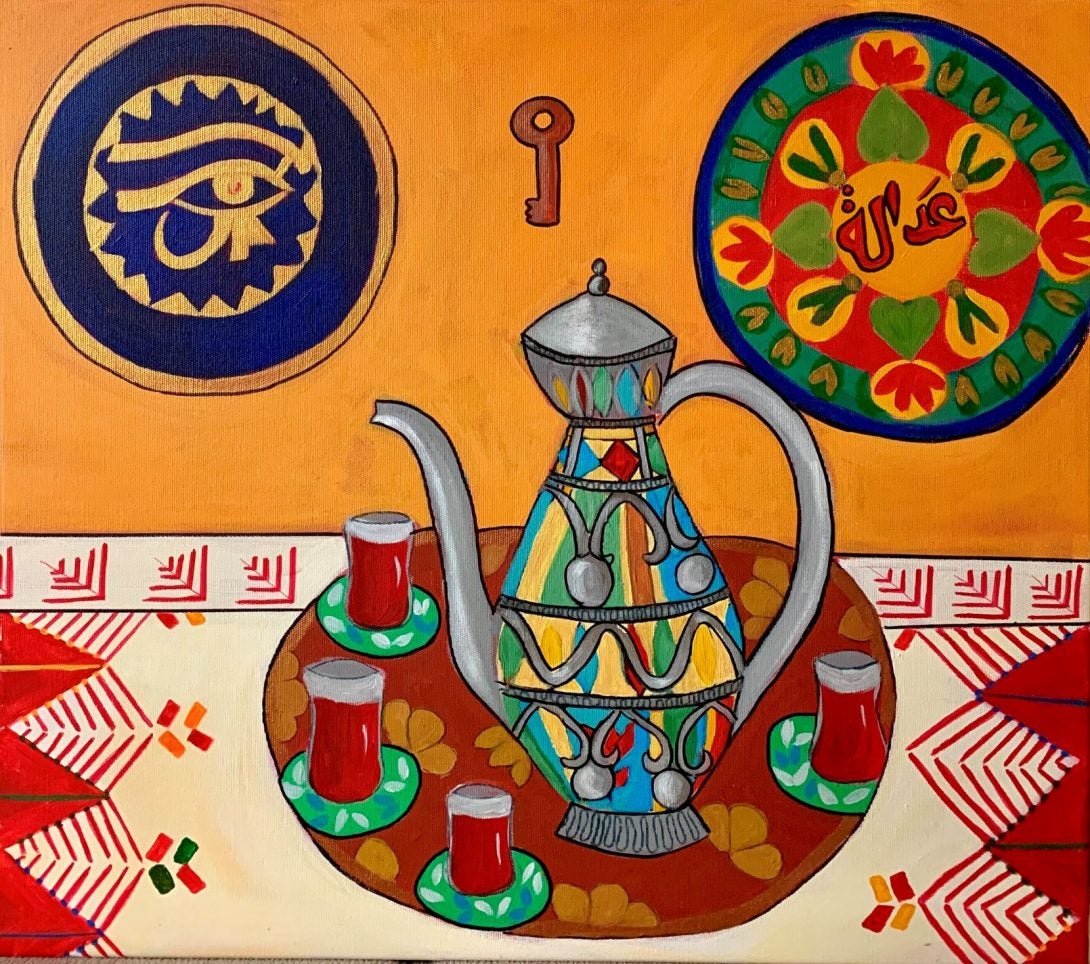 Malak Mattar
Malak Mattar, is an artist of startling originality from the Gaza Strip who paints powerfully expressionist faces, figures, and semi abstract designs. She first started painting at age 13 furing the 51 day Israeli military assault on Gaza in 2014. Forced to stay inside for her own safety, she felt a compelling need to release all of her negative energy —fear, anxiety and sheer terror. She started painting with art supplies from her school, basic watercolor on paper. This opened up a world of self expression for her. Mattar produced over 300 painting.Unable to leave Gaza due to restrictions of the Israeli occupation, Mattar showed her paintings to the world via social media, on Instagram and Facebook. On her fourteenth birthday, she began offering her originals for sale to buyers around the world. Within two years, she became financially independent. Mattar's artwork quickly began to garner interest from galleries beyond Palestine; her artwork has been featured in many individual and group exhibitions in Jerusalem, France, Spain, Turkey, Costa Rica, India, England, 11 states in the USA and Art under siege exhibit held in Rayburn House Office building, US House of Representatives, DC.
While developing her artistic talent, Malak Mattar has also excelled academically, achieving the highest grade point average in the Gaza strip in 2017, her senior year of high school, and the second highest grade average in all Palestine that same year amongst thousands students in West Bank and Gaza Strip. Mattar's childhood under three aggressions on Gaza (a fourth this summer) has made her paintings focus on the humanitarian side of life. Malak Mattar paints in acrylic and oil on canvas, and is currently living in Istanbul where she studies in Istanbul Aydin university on part scholarship.
In 2021, Malak had a virtual exhibition and speech in Museum of Palestinian people and the American University of Beirut, in Lebanon. She had participated in several panels and workshops around the world.
Malak was featured in Vogue Italia in 2020 after the United Nation selected her artwork My Skin Is Not A Sin to represent the right to reduced inequality and her artwork 'You and I' is the cover feature for June for GQ Middle East.
To see more of her artwork visit: @malak_mattar_artist  and https://etsy.me/2VwtgE0
The Arab American Cultural Center partnered with Malak to produce the Center's Image.
Painting Narrative: "My painting is inspired by the great mission of The Arab American Cultural Centre that seeks to raise awareness about the Arab, Arab American, and Muslim American cultures and histories as well as, connecting communities to promote social justice and equality. My painting was especially inspired by one of the missions of the center which is connecting diverse communities through art and culture and this is what my painting's main goal. I wanted to make a symbolic painting that seeks to represent diverse communities and connect them in one inviting kitchen table which is one of the effective ways diverse communities can learn about each other and connect.
While it is impossible to represent each and every cultural, linguistic, racial, ethnic, religious, and other diversities in this region, my hope was to signal the richness of this history and the ways it engages with the current realities and struggles of people of the Arab region. To start with, kitchen tables, from Mauritania to Oman and from Iraq to Sudan, is where communities and families come together to cook food that nourishes and cook-up plans for community events, taking care of neighbors and friends, strategizing on how to support members of the community, and share and exchange ideas. Elements on the kitchen table and the wall are meant to represent the rich diversity of the region and its cultures historically.
The embroidered (tatreez) tablecloth represents the Palestinian community connected (woven) together across the world. The teapot is a defining element of Moroccan and North African hospitality and community gathering and its colors is a homage to some of the indigenous peoples of North Africa. The teacups, common across the Gulf and the Levant, help initiate conversations. The tray has Syrian embroidery (aghbaneh أغباني) symbolizing generosity and connections built across cultures and lands. The Eye of Horus is an ancient Egyptian symbol of protection, power, and good health.
One of the Arab American Cultural Center's mission is promoting social justice and equality and therefore, I painted the word  عدالة Adalah which means justice in Arabic inside a Tunisian decorated plate. In addition, the Key is a very important symbol for Palestinians as it represents one of the most prominent right, the right of return and self-determination. In 1948, hundreds of thousands of Palestinians were forced to leave their homes and lands and were never allowed to go home; many still hold on to the keys to their homes. The key symbolizes the social justice vision that the center works to promote and raise awareness about."
You can find the painting hanging on the wall at the Center this Fall 2021.
Mary Hazboun

Mary Hazboun's The Art of Weeping, a collection of prints where Mary recollects for her audience the lived experience of war trauma and resistance within bodies, as well as how they can be applied to militarized zones such as Iraq, Yemen, and Syria. You can see more of Mary Hazboun's work at www.theartofweeping.etsy.com.

Story of the Art of Weeping: The Art of Weeping collection emerged slowly, as I was grappling with multiple traumas due to living under Israeli military occupation for 21 years, and later forced to migrate to the U.S. in 2004. While a graduate student in Women's and Gender Studies, I started doodling in class to ease the flashbacks and panic attacks I was experiencing when reading course materials that discussed war and military violence. I realized that this doodling was a way for me to avoid panic attacks and not to be forced to leave the classroom.

This sketching continued for months, and as a result, a collection of over thirty complete art pieces came to life. Some are products of a repressed memory of the 2nd Intifada (Uprising) in Palestine, and others emerged while I was watching the news or feeling triggered.

In The Art of Weeping, I highlight the multiple and intersecting traumas people in war zones experience due to extreme systematic violence and forced migration/displacement, and how these traumas continue to shape their psyches, whether they continue to live in the "militarized zone" or elsewhere. In addition, the work is an invitation to start a conversation about mental health, especially since it continues to be a taboo topic in many Arab and Muslim communities.

The Art of Weeping is unapologetically about grief. It is about allowing ourselves to fully experience our grief, and create a space for our heartbrokenness. On the other hand, it is also about cultivating resilience and radical hope, so we can reclaim our struggle and work towards transformative social change.

About Mary

: Mary was born and raised in Bethlehem, Palestine and migrated with her family to Chicago in 2005 after the Second Intifada. She is an artist and a folk singer. You can read more about Mary in an interview

here

Zeinab Saab

Zeinab Saab: Zeinab's prints and artist's book collection were housed at our center Fall 2018. You can learn more about Zeinab's art on http://zeinabsaab.com/