COVID-19 Resources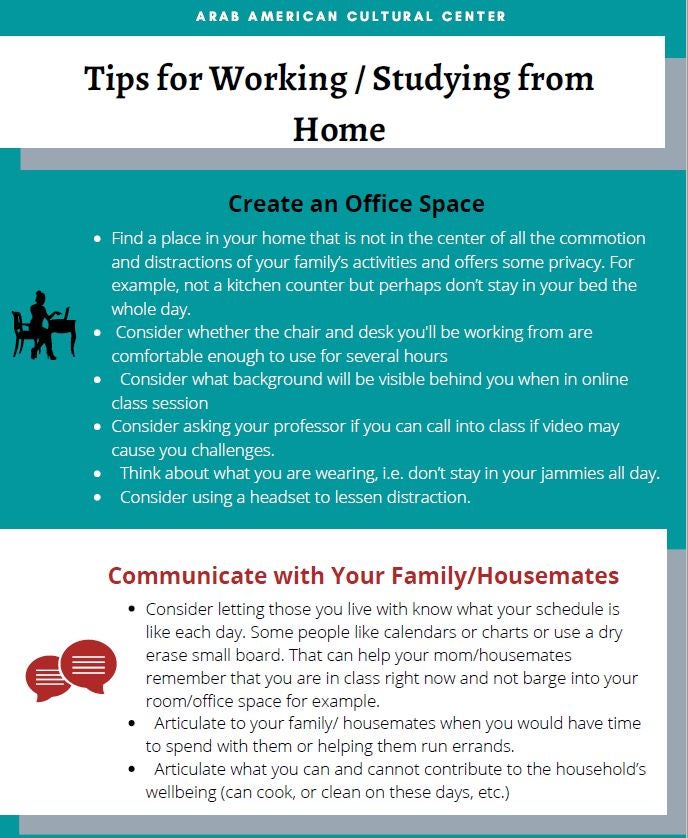 The ArabAmCC has developed a set of tools and tops for supporting students working/studying from Home during the COVID-19 crisis. Negotiating time and space while living with others who may have similar or conflicting needs can be a challenging process specially when we are all tense and stressed. Here are few tips based on what has been working for some of our students. If you have suggestions for additions or modifications, do not hesitate to email them to us at: arabamcc@uic.edu
Most of our daily routines have changed due to the pandemic
Most of us are navigating this current landscape of political change and want to help out
If you're looking for a creative outlet  to spend your time while social distancing or finding ways to contribute to causes, here are some crafts you can try at home
Consider Donating what you make to organizations as a form of solidarity
Try your Hands at Something New and Contribute to Groups with a Social Justice Mission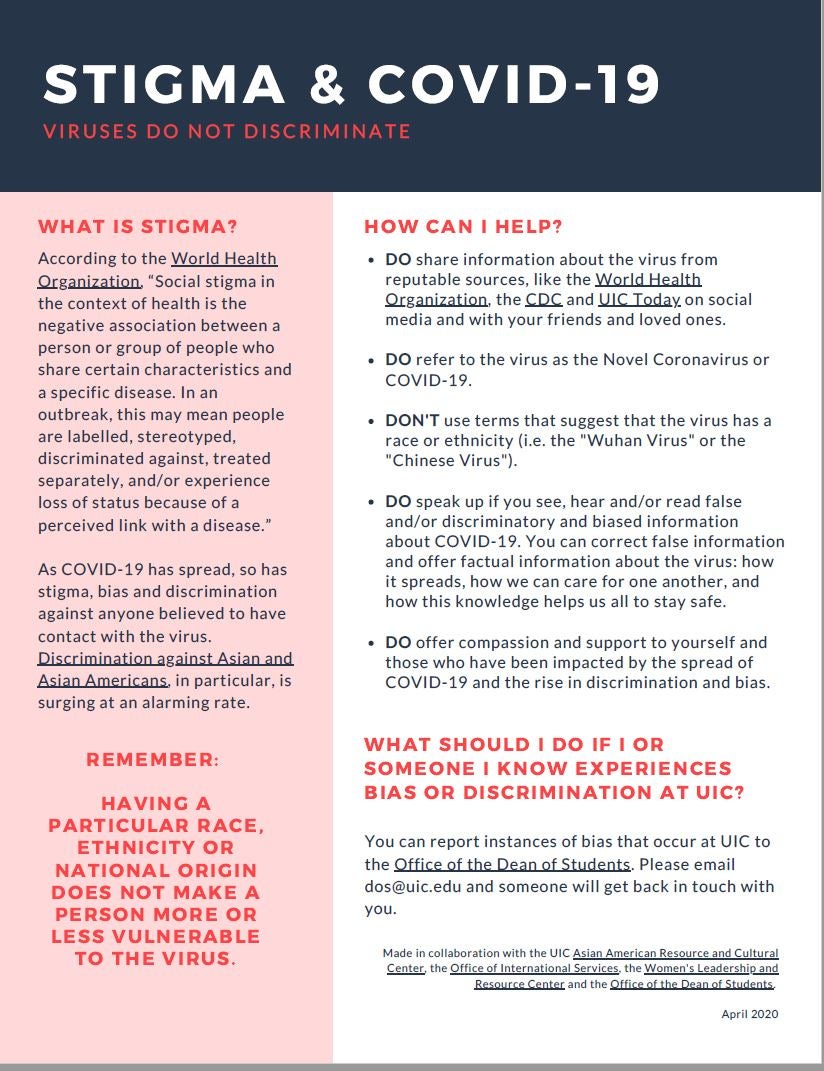 COVID-19 is a virus that like other viruses does not discriminate. Nonetheless stigma and discrimination against Asian and Asian Americans has been on the rise. The enclosed link provides information about how to understand Stigma, how to speak up and support folks affected by discrimination.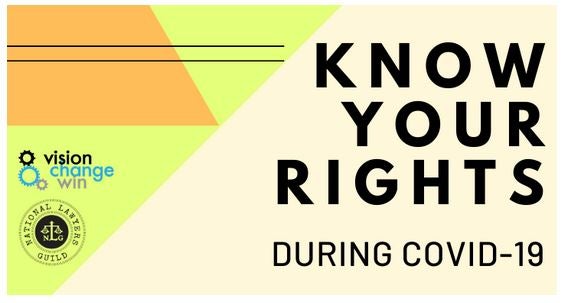 The National Lawyers Guild has put together an important resource around our rights during these difficult times. "While the COVID-19 pandemic necessitates public health measures to reduce the impact of the virus on our communities and health care systems, we must be vigilant and resist authoritarian and violent tendencies." Please note this guide is intended as a resource for community members and does not constitute legal advice.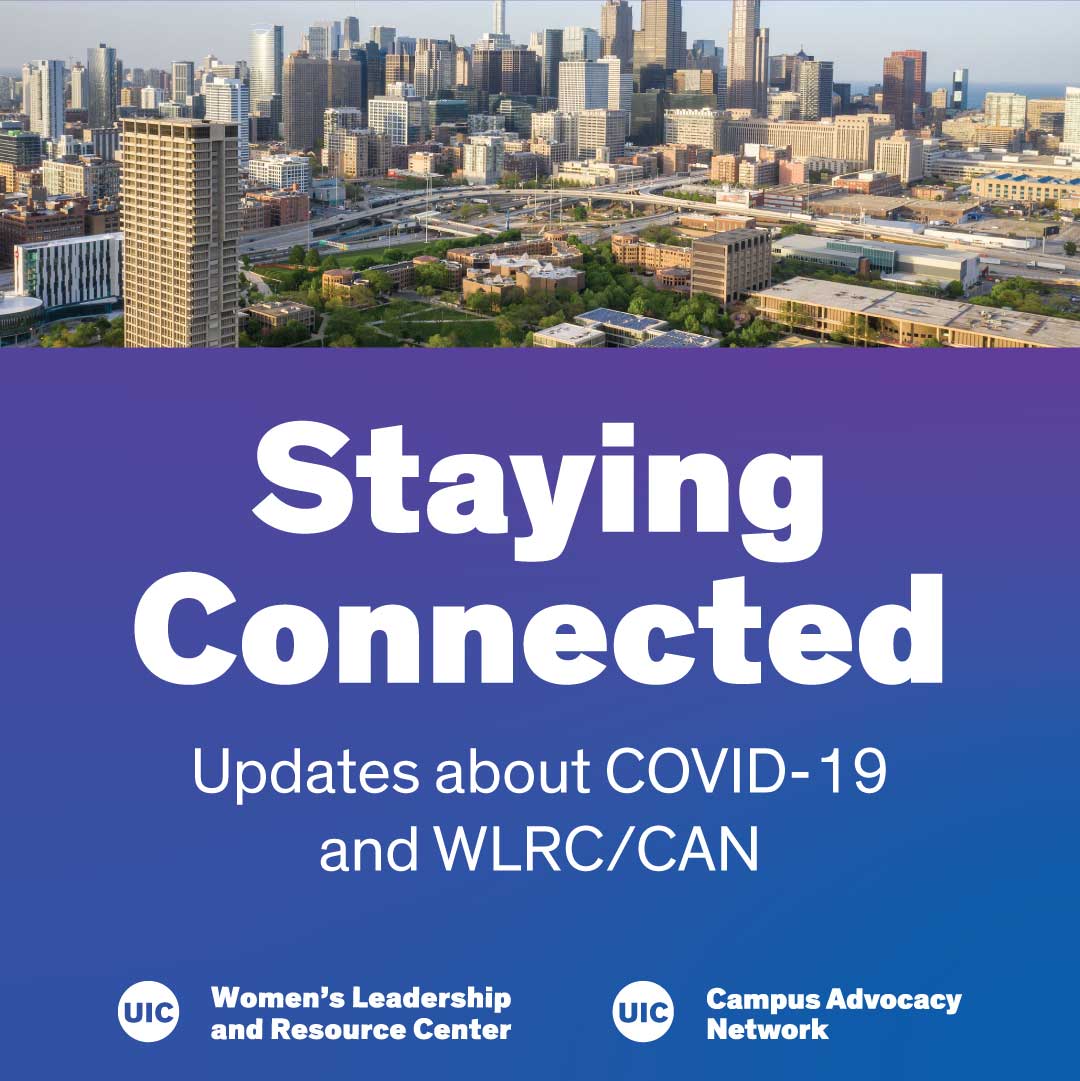 WLRC and Campus Advocacy Network are Here for you During this Crisis
Staff are working remotely and can be reached at wlrc@uic.edu. We will continue to stay connected with you through social media and email.
The Campus Advocacy Network will continue to serve UIC students, faculty, and staff. Our confidential advocate is available for virtual appointments.
To schedule a meeting or request more information, please email can-appointment@uic.edu or kmaginot@uic.edu. You can also call (312) 413-8206 and leave a voicemail.
We are open to connecting with you in multiple ways:
Phone: (312) 413-8206 or (312) 488-9784
Video conference (Webex or Google Hangouts)
Online chat (Google Chats)
Email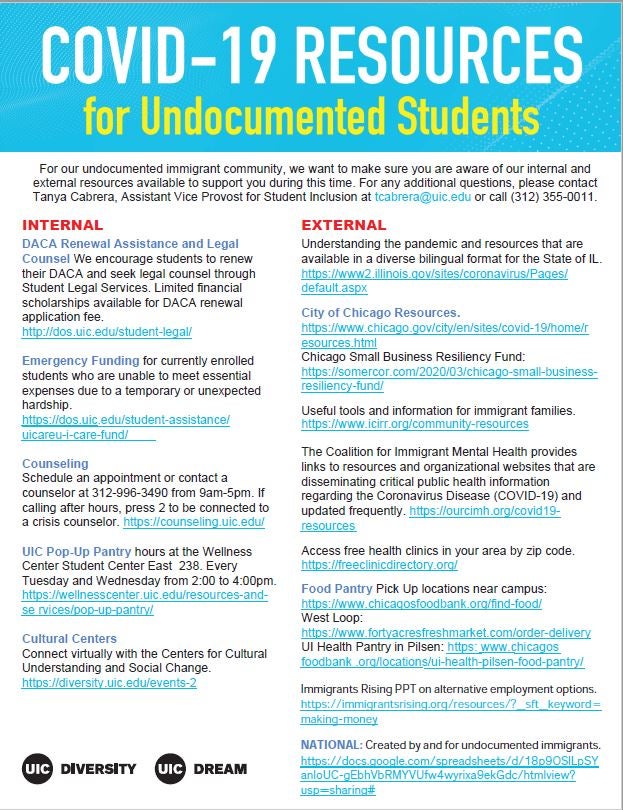 For the undocumented immigrant community, a list of internal and external resources available for support during this time. For any additional questions, contact Tanya Cabrera, Assistant Vice Provost for Student Inclusion at tcabrera@uic.edu or call 312-355-0011.
Internal resources include:
DACA renewal assistance and legal counsel
Emergency Funding
Counseling
UIC Pop-up Pantry
Cultural Centers
External resources include:
Bilingual information on Pandemic at State of IL
City of Chicago Resources on financial matters, mental and physical health, and food pantries
UIC created a page of information and resources around what the campus is doing in response to COVID-19 and How you can access support.