Da'am: Support Services
Da'am aims to provide support to students, staff, and faculty to ensure their positive experiences at the UIC campus where their whole identity is respected and nourished. For students Da'am programs are particularly geared to ensure their academic success and fulfillment. While few of these may necessitate public programming the majority of this work is often conducted in one-on-one conversations and committee work.
Wellness Series: includes de-stress events during and before finals week and other programming (including workshops and presentations) providing support for and raising awareness on students' well-being. We consider well-being holistically including providing students with tools to manage intimate and family relationships, identity challenges, managing health related concerns and mental and physical disabilities, work-life balance, in addition to managing school life in general.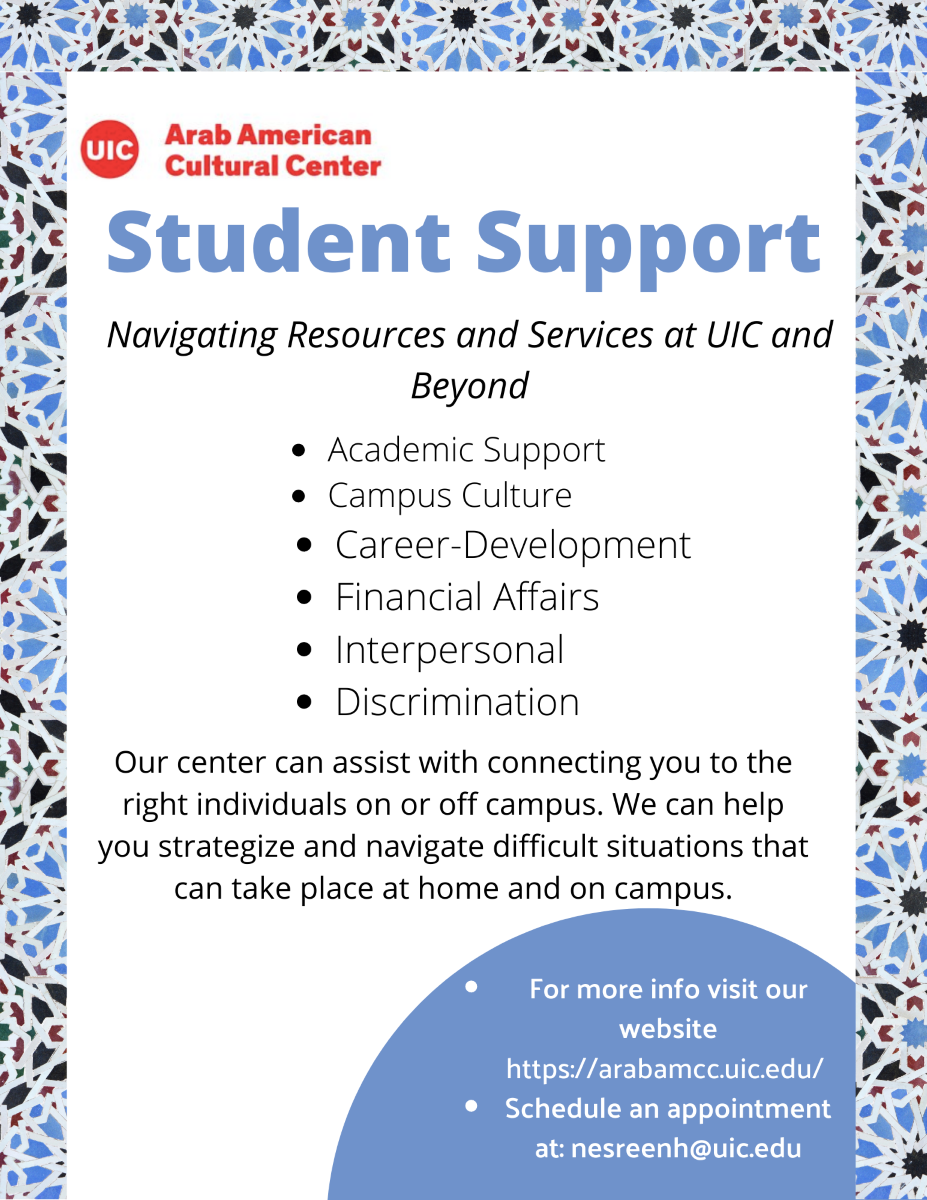 2. Student Support: entails listening to students' concerns and questions related to Academic Development, Financial Resources, Career Development, Interpersonal Challenges, and Campus Culture and directing them to the available channels and entities (on and off campus) that can provide more direct support. It also includes recording incidences of bias and discrimination, ensuring students understand the possible avenues available to them to address such injustices, and accompanying them in the process. Additionally, we also organize trainings and workshops as needed on racial and gender justice, multi-racial solidarity, disability allyship, and other areas connected to embodying the Center's points of unity to foster a brave space at the Center.
3. Advocacy: includes raising awareness within the campus community (faculty, staff, and administration) about Arab and Arab American cultures and experiences through presentations, trainings, and conversations. It also includes accompanying students facing particular challenges on campus, direct advocacy concerning student needs and services on campus, ensuring adequate information about our student community, and serving on campus-wide committee to ensure representation of our students' needs. If you are interested in an Arab and Arab American presentation at your department or unit, please contact us at arabamcc@uic.edu