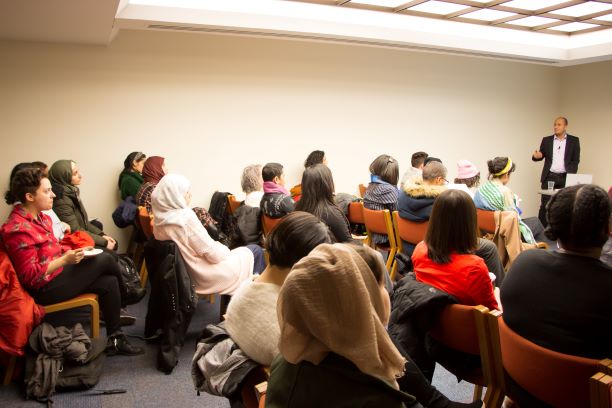 Located in 101 Taft Hall, ArabAmCC is a space where diverse students, staff, faculty, and community come to share, explore, study and relax. In sharing our histories and cultures with the campus community, we hope to both familiarize others with our identities and perspectives and also learn more about who we are and how we are connected to other communities and struggles. We aim to provide an avenue for engaging with the diversity of our Arab and Arab-American and Middle Eastern and North African communities who may not identify as Arab and those closely affiliated with that history and geography and engage in critical conversations around issues impacting our lives.
The Center prioritizes intersectionality as an approach to our programming and collaboration as a strategy to help build and strengthen community. Thus, the Center interacts with the campus and off-campus community working to fulfill its mission through the following Six Program Areas:
Ibda'a: Creative Practices,
Hiwarat: Public Conversations,
Tawasul: Strengthening Connections,
Da'am: Support Services,
Tamkeen: Capacity Building,
Intercultural/Cross-Movement Programs, and
Special Programs.
For questions about our events or to plan an event with us, email: arabamcc@uic.edu