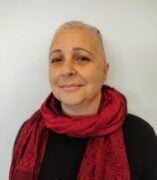 Zeina Zaatari
Director
Pronouns: She/Her/Hers
About
For over 25 years Zeina Zaatari, a feminist from South Lebanon, has worked on gender and racial justice in Arab and Arab American communities both within academic and non-profit spaces in programming and producing knowledge. Before joining UIC in January 2019, she worked as Research Director at Political Research Associates, an organization that studies the US Right (including religious Right, Political Right and far right groups). Previously, she taught courses in Anthropology and Gender and Sexuality at several universities and worked as the Regional Director for the MENA Program at Global Fund for Women (2004-12) where she managed a diverse grantmaking program to support women's and trans movements in the Middle East and North Africa.
Zeina earned her PhD in Cultural Anthropology with an emphasis in Feminist Theory from the University of California at Davis, with dissertation fieldwork focusing on women's groups and activists in South Lebanon. Zeina serves as the Associate Editor for the Middle East and Africa (northern and sub-Saharan) for the Encyclopedia of Women and Islamic Cultures. She is a trainer and mentor for The Muslim Women in the Media Training Institute supporting journalism graduate students and junior journalists in better coverage and representation of Muslim women and their issues. She is a co-founder and member of the Training to Engaged Research Group that provides training and mentorship to junior faculty and graduate students in mostly national universities in the Arab region on how to conceptualize research projects, draft research proposals, conduct the research, analyze the data, and get published. Zeina was elected as the Member at-Large to serve on the board of the Association for Middle East Women's Studies for 2022-2024. She is a co-founder and elected advisor to the Women Human Rights Defenders-MENA Coalition.
Her most recent publications include a co-edited book with Suad Joseph and Lena Meari titled The Politics of Engaged Gender Research in the Arab Region: Feminist Fieldwork and Knowledge Production (I.B.Tauris, 2022), "Sarah Hegazy and the Struggle for Freedom," Middle East Report Online (2020), a chapter on "Sexual Rights Movement: Middle East and North Africa" in Sexualities in the Middle East edited by John Michael Ryan and Helen Rizzo (forthcoming), "Lebanon" in Arab Family Studies: Critical Reviews edited by Suad Joseph (2018, Syracuse University Press), "Social Movements and Revolution" in A Companion to the Anthropology of the Middle East, edited by Soraya Altorki (2015, Wiley-Blackwell), and "Desirable Masculinity/Femininity and Nostalgia of the "Anti-Modernity": Bab el-Hara Television Series as a Site of Production" in Sexuality and Culture (2014). She is co-editing with Suad Joseph the Handbook of Women in the Middle East (Expected 2022, Routledge). Additionally, she has authored several commissioned research publications including: "Unpacking Gender: The Humanitarian Response to the Syrian Refugee Crisis in Jordan" (2014, Women's Refugee Commission).
Zeina joined the ArabAmCC in January 2019 and is also adjunct Faculty in the department of Anthropology and Faculty Fellow in the Honors College.