Oct
3
2019
Nadwa (Public Conversation): For Whom Indigeneity Matters: Homelands, Displacement, and the Modern Arab Refugee by Eman Ghanayem
October 3, 2019
12:00 PM - 1:20 PM
Location
Arab American Cultural Center 111 Stevenson Hall
Address
701 S Morgan St., Chicago, IL 60612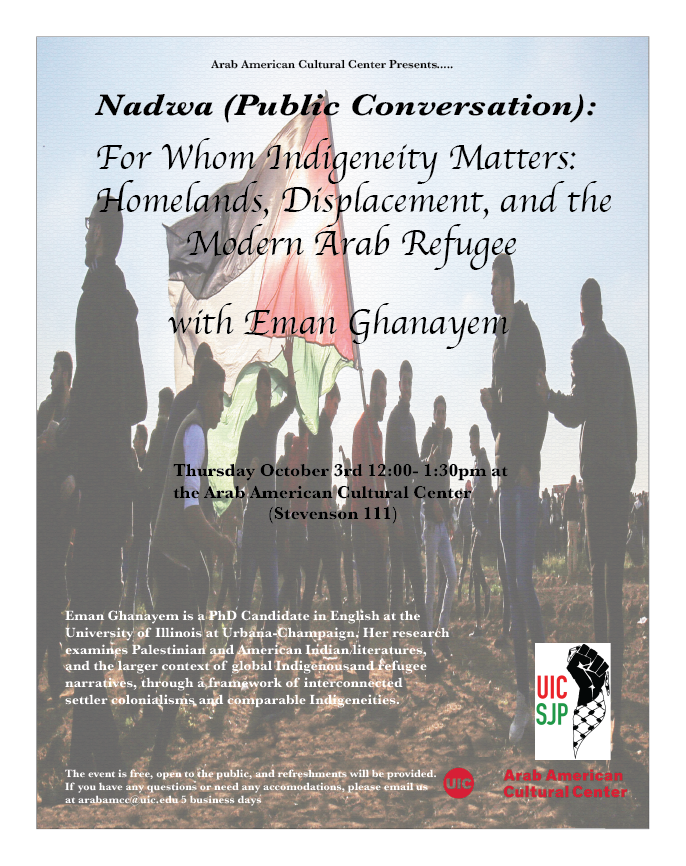 Eman Ghanayem is a PhD Candidate in English at the University of Illinois at Urbana-Champaign. Her research examines Palestinian and American Indian literatures, and the larger context of global Indigenous and refugee narratives, through a framework of interconnected settler colonialisms and comparable Indigeneities.
Focus of the talk: "For Whom Indigeneity Matters: Homelands, Displacement, and the Modern Arab Refugee" is inspired by Lenape scholar Joanne Barker's essay "For Whom Sovereignty Matters" that asks American Indian nations to collectivize around the concept of sovereignty and instead of seeking US federal recognition, find support in international institutions like the United Nations. In a reversed manner, obtaining international recognition and independent statehood has preoccupied liberation projects in Palestine and the Arab world at large for many decades. For that reason, I wish to alternately focus our attention on the question of Indigeneity and why it should matter to Arabs today. In light of the ongoing refugee crisis that produced nearly 25 million refugees, many of whom come from Arab backgrounds, it is pertinent to question stereotypes about refugees and displaced peoples as individuals who are out of time and out of place– i.e. as people who come from nowhere and belong to nowhere. By employing Indigenous theory, we can begin to ground these refugee experiences in an emotional connection to real place that withstands the perils of the diaspora. In addition, learning from and about American Indian experiences can demystify the myth of the United States as a "nation of immigrants" and contextualize the categories of "settler," "migrant" and "refugee" in productive ways– all towards creating an informed solidarity that is aligned with decolonial projects locally and internationally.
Event will be held at the ArabAmCC in 111 Stevenson Hall. Refreshments will be served. Space is wheelchair accessible. For other accessibility needs, please contact us 5 days before the event.
Contact
Arab American Cultural Center
Date updated
Sep 25, 2019