Jan
30
2020
Breaking Taboos: Understanding Power and Privilege in Muslim Communities
January 30, 2020
2:30 PM - 4:00 PM
Location
Daley Library Rm 1470
Address
801 S Morgan St., Chicago, IL 60607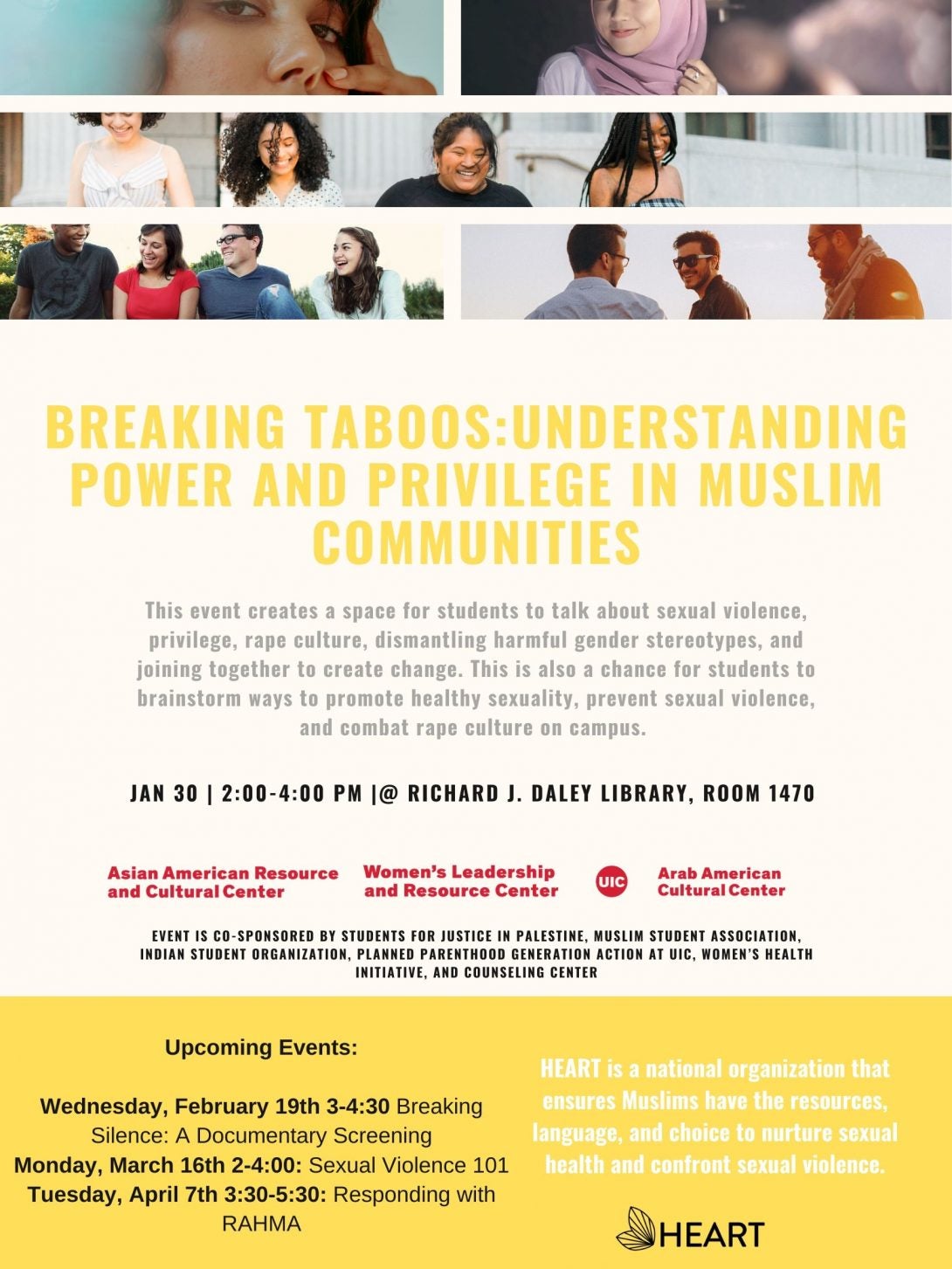 Second Workshop in a Series of Workshops on Healthy Relationships
Breaking Taboos: Understanding Power and Privilege in Muslim Communities. This event creates a space for students to talk about sexual violence, privilege, rape culture, dismantling harmful gender stereotypes, and joining together to create change. This is also a chance for students to brainstorm ways to promote healthy sexuality, prevent sexual violence, and combat rape culture in campus.
Event will be moderated by HEART. HEART is a National organization that ensures Muslims have the resources, language, and choice to nurture sexual health and confront sexual violence.
Refreshments will be served.
Space is wheelchair accessible. If you have questions or additional accessible needs, please contact the Center five days in advance.
Event is co-organized by the Arab American Cultural Center, the Asian American Resource Cultural Center, and the Women's Leadership and Resource Center in partnership with HEART.
Event is co-sponsored by the Students for Justice in Palestine, Muslim Student Association, Indian Student Organization, Planned Parenthood Generation Action at UIC, Women's Health Initiative, and the Counseling Center
Contact
Arab American Cultural Center
Date updated
Jan 15, 2020