Jul
10
2020
Anti-Black Racism in Southwest Asia / North Africa and Diaspora
July 10, 2020
11:00 AM - 2:30 PM
Address
Chicago, IL 60612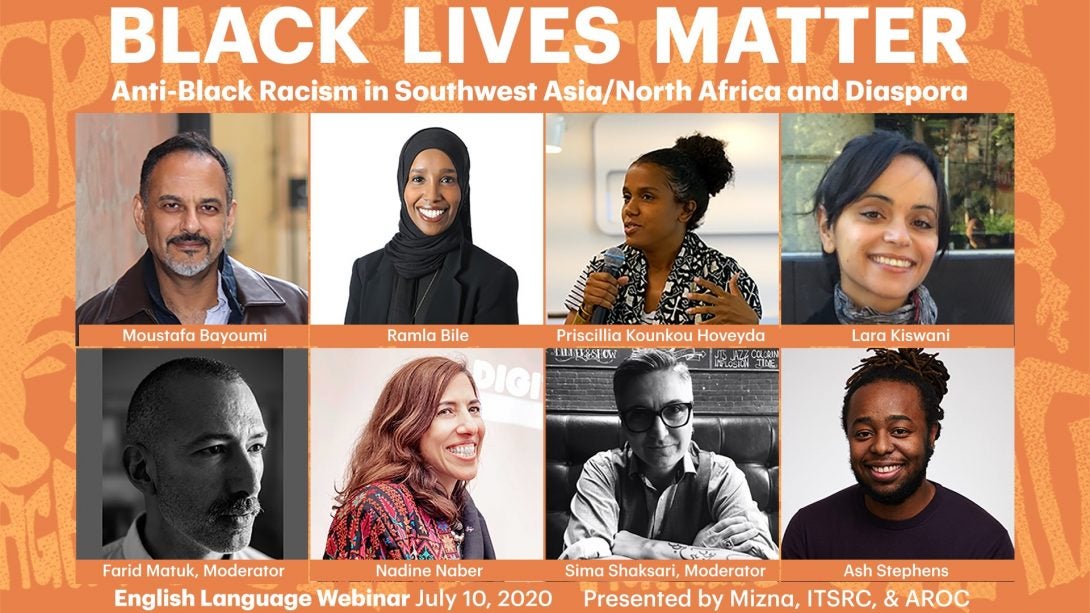 Following a statement made after the brutal murder of George Floyd at the hands of the Minneapolis police, between July 10th and July 24th, 2020, Mizna with the US-based organizations including the Imagining Transnational Solidarities Research Circle at the University of Minnesota, and Arab Resource and Organizing Center will host a series of online panels in support of the Black Lives Matter movement.
Panels in Arabic, English, and Farsi will address the history, present, and future of joint struggles between Black and non-Black South West Asian and North African communities, as well as solidarities and coalitions between SWANA communities and Black American communities in the United States. The series will also interrogate anti-Black racism in the SWANA region and its diasporas, and acknowledges the ways in which the SWANA communities have contributed to, profited from, and perpetuated forms of anti-Black racism and violence, while being subjected to anti-Arab, anti-Iranian, and anti-Muslim violence both locally and globally.
First Panel in English, register here
PANELISTS: Moustafa Bayoumi, Ramla Bile, Priscillia Kounkou Hoveyda, Lara Kiswani, Nadine Naber, Ash Stephens
MODERATORS: Sima Shaksari, Farid Matuk
For bios and more information on panelists and moderator, check out Mizna
This project is co-sponsored by AGITATE!, Arab American Cultural Center, New Arab American Theater Works, Arab American Action Network, US Palestinian Community Network and Radius of Arab American Writers.
Contact
Arab American Cultural Center