Sep
17
2020
Yalla Nitkalem (Let's Talk) يللا نتكلم
September 17, 2020
12:00 PM - 1:00 PM
Location
Virtual via Zoom
Address
Chicago, IL 60612
Download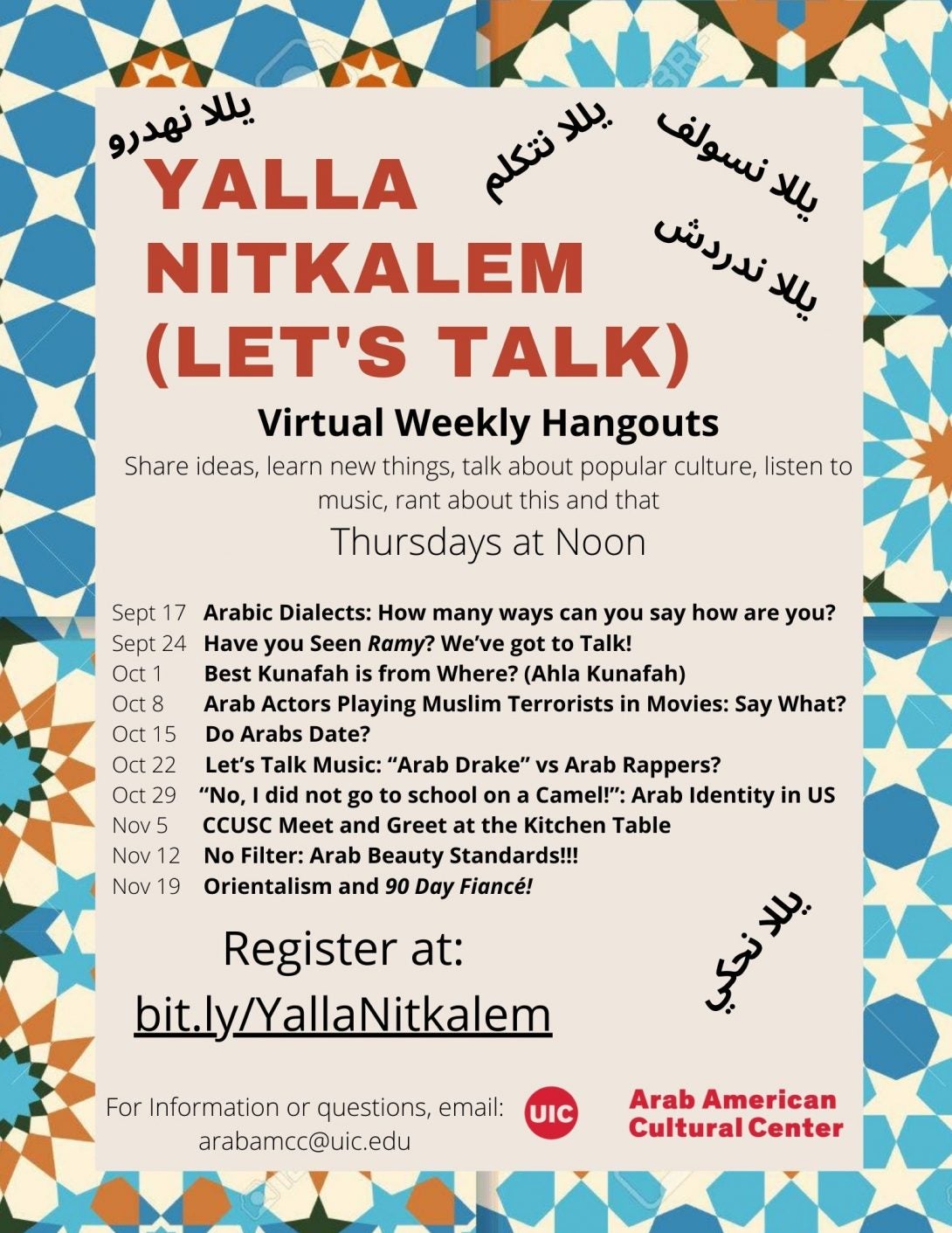 Yalla Nitkalem (Let's Talk)
Join the Arab American Cultural Center for a Virtual Weekly Hangout
Thursdays at Noon
We'll be sharing ideas, learning new things, talking about popular culture, listening to music, ranting about this and that.....
Sept 17 Arabic Dialects: How many ways can you say how are you?
Sept 24 Have you Seen Ramy? We've got to Talk!
Oct 1 Best Kunafah is from Where? (Ahla Kunafah)
Oct 8 Arab Actors Playing Muslim Terrorists in Movies: Say What?
Oct 15 Do Arabs Date?
Oct 22 Let's Talk Music: "Arab Drake" vs Arab Rappers?
Oct 29 "No, I did not go to school on a Camel!": Arab Identity in US
Nov 5 CCUSC Meet and Greet at the Kitchen Table
Nov 12 No Filter: Arab Beauty Standards!!!
Nov 19 Orientalism and 90 Day Fiancé!
RSVP HERE: http://bit.ly/YallaNitkalem
For questions including accessibility needs, contact us at arabamcc@uic.edu
Contact
Arab American Cultural Center