Oct
10
2019
Wajd: Songs of Separation / Nadi Al-Cinema
Nadi Al-Cinema: Film Series
October 10, 2019
1:00 PM - 2:30 PM
Location
Arab American Cultural Center 111 Stevenson Hall
Address
701 S Morgan St., Chicago, IL 60612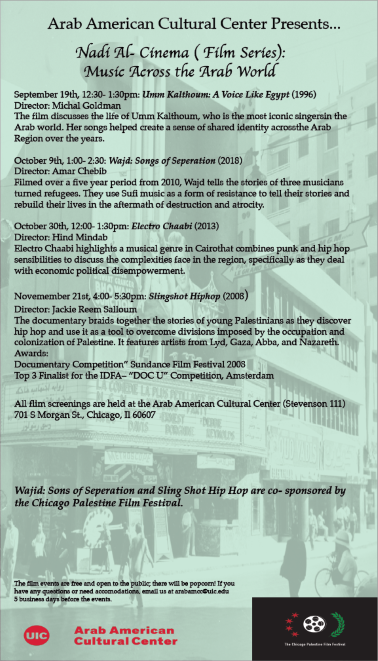 Second Film in our Nadi Al-Cinema (Film Series) focused on Music Across the Arab World.
Film will be screened on Thursday Oct 10 (1-2:30) instead.
Film: Wajd Songs of Separation
About Film:
Inspired by the traditional sacred music of Syria, filmmaker Amar Chebib travelled to Damascus and Aleppo in 2010. Six months later the revolution began, escalating into a bloody civil war and the largest humanitarian crisis of our time. Touched by the harrowing experiences of the friends he made, Wajd transformed into the stories of three musicians turned refugees.
Over five years, we witness the struggles of Ibrahim, Abdulwahed, and Mohamed as they face their traumatic past. Forced to rebuild their lives in exile, they turn to their love of music to help them find meaning in the aftermath of destruction and atrocity. Intimate footage of their daily lives weaves together with bittersweet musical performances, extremely rare Sufi ceremonies, and poetic imagery of a pre-war Syria that no longer exists. What unfolds is a cinematic meditation on loss, yearning, and faith.
"Chebib crafts a constellation of experience where narrative time oscillates between the sweeping, rare footage of pre-war Syria's cultural majesty and into present-day formations of refugee life."
Popcorn and Refreshments will be served. Event held at ArabAmCC in 111 Stevenson Hall. Location is wheelchair accessible. For other accessibility needs, please contact the Center 5 days in advance.
Event is co-sponsored by the Chicago Palestine Film Festival.
Contact
Arab American Cultural Center