Nov
16
2021
Unlearn to Relearn: Shifting Attitudes for Arabs with Disabilities
Nadwa (Public Conversation)
Location
Virtual via Zoom
Address
Chicago, IL 60612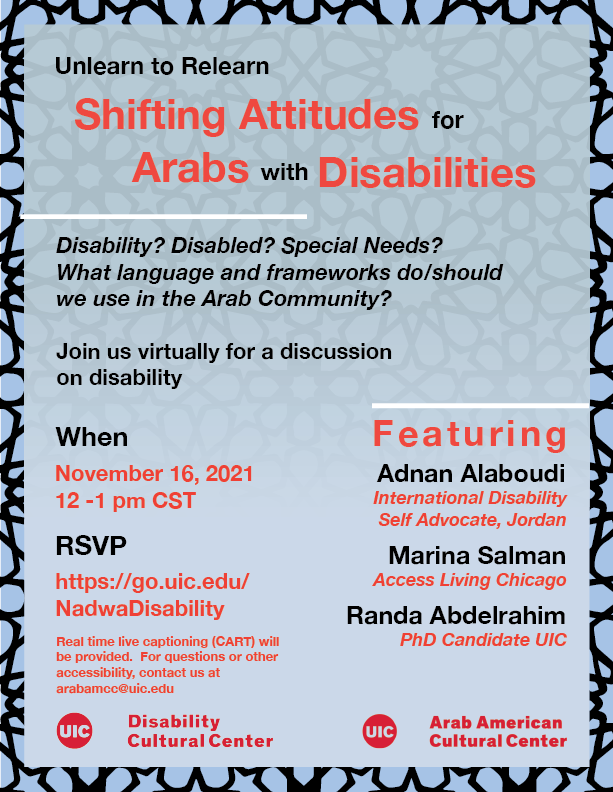 Disability? Disabled? Special Needs? What language and framework do/should we use in the Arab Community? Join us for a discussion on disability in the Arab/American community!
Historically and traditionally, people with disabilities across the globe have been systematically excluded and marginalized from all aspects of society. Although perspectives and attitudes about disability have changed in recent decades, people with disabilities of color continue to face systemic and cultural barriers that deprive this community of accessing quality education and resources that will enable them to become valued members of society. In particular, people with disabilities among Arab communities, by large, continue to face persistent and blatant oppression and barriers from living quality and humane lives. This webinar is the first of its kind. We will explicitly address long-term disability issues that have impacted Arab communities in the United States and the Middle East. The webinar aims to ignite new ways of thinking about disability and how all of us—both disabled and non-disabled alike—can begin to create a better society that promotes the basic principles of independence, respect and dignity for Arabs with physical, intellectual, and mental health disabilities.
Facilitators:
Adnan Alaboudi, International Disability Self Advocate, Jordan
Marina Salman, Access Living Chicago
Randa Abdelrahim, PhD Candidate Disability Studies, UIC
Real-time live captioning will be provided. For questions, additional information, and/or accessibility contact us at arabamcc@uic.edu
Event is co-organized by the Arab American Cultural Center and the Disability Cultural Center
Speaker bios:
Adnan Alaboudi is a person with disabilities (dual bottom amputation above and under the knee). Adnan is the Executive Director of the Landmines Survivors Network from 1999-2008 and a member of the Committee for Drafting of the International Convention on Human Rights with Disability in the United Nations. He is an activist and coach in the field of persons with disabilities and a professional sport in power games, table tennis, swimming and water skiing, and participating in global, Olympic, and Arab sports. Adnan is the coordinator of awareness and promotion programs in the Supreme Council for People with Disabilities in Jordan 2009 - 2017.
Marina Salman serves as the SOAR case manager for the Colbert Transition Program at Access Living Chicago where she helps individuals living in long-term care facilities reintegrate back into their communities after their recovery. She is also involved in numerous advocacy efforts that focus on the intersectionality of race and disability, which includes healthcare and criminal justice reform. Marina completed her Master's in Counseling Psychology with a focus in Sport and Health Psychology from Adler University in Chicago. She is an Arab American woman with multiple disabilities who looks to empower Arabs with disabilities to live meaningful lives through the power of education and experience.
Randa Abdelrahim is a visiting research specialist at the department of disability and human development, University of Illinois Chicago and a PhD candidate of disability studies. As an Arab American immigrant, Randa is interested in examining contextual factors of disability across immigrants and minority groups. Her research focuses on how multiple personal and social factors such as gender, culture, race, and income contribute to disparities in accessing health care and disability services for people with disabilities and their caregivers. Her advocacy work includes supporting people with disabilities with a focus on those who identify as Arab. She is currently a member of the Disability and Immigration Taskforce of Illinois.
RSVP
Contact
Arab American Cultural Center
Date updated
Oct 26, 2021