Apr
5
2022
Symposium on Women, Gender, and Sexuality in the Middle East and North Africa and Diasporas
April 5, 2022
9:30 AM - 5:00 PM
Location
Jane Adams-Hull House
Address
800 South Halstead St, Chicago, IL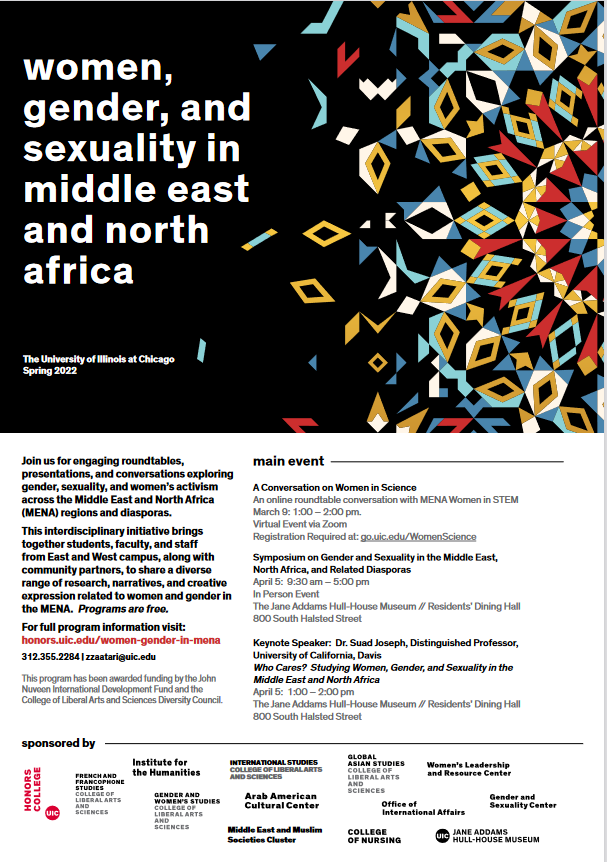 Symposium on Women, Gender, and Sexuality in the Middle East and North Africa
April 5th, 9:30am - 5:00 pm
Keynote Address: Who Cares? Studying Women, Gender, and Sexuality in the Middle East and North Africa.
Keynote Speaker: Dr. Suad Joseph, Distinguished Research Professor at the University of California, Davis
For questions and accessibility, email: zzaatari@uic.edu
More information: https://apps.honors.uic.edu/Apps/Women-Gender-in-MENA/
Event is sponsored by College of Nursing, Institute for Humanities, Gender and Women's Studies, Middle East and Muslim Societies Cluster, Global Asian Studies, Women's Leadership and Resource Center, Gender and Sexuality, Office of International Affairs, Jane Adams Hull-House Museum, Arab American Cultural Center, French and Francophone Studies, and Honors College.
Contact
Arab American Cultural Center