Apr
25
2022
Sisters in the Mirror: A History of Muslim Women and the Global Politics of Feminism
Hiwar Maftuh (Public Conversation)
April 25, 2022
4:00 PM - 5:30 PM
Location
Virtual via Zoom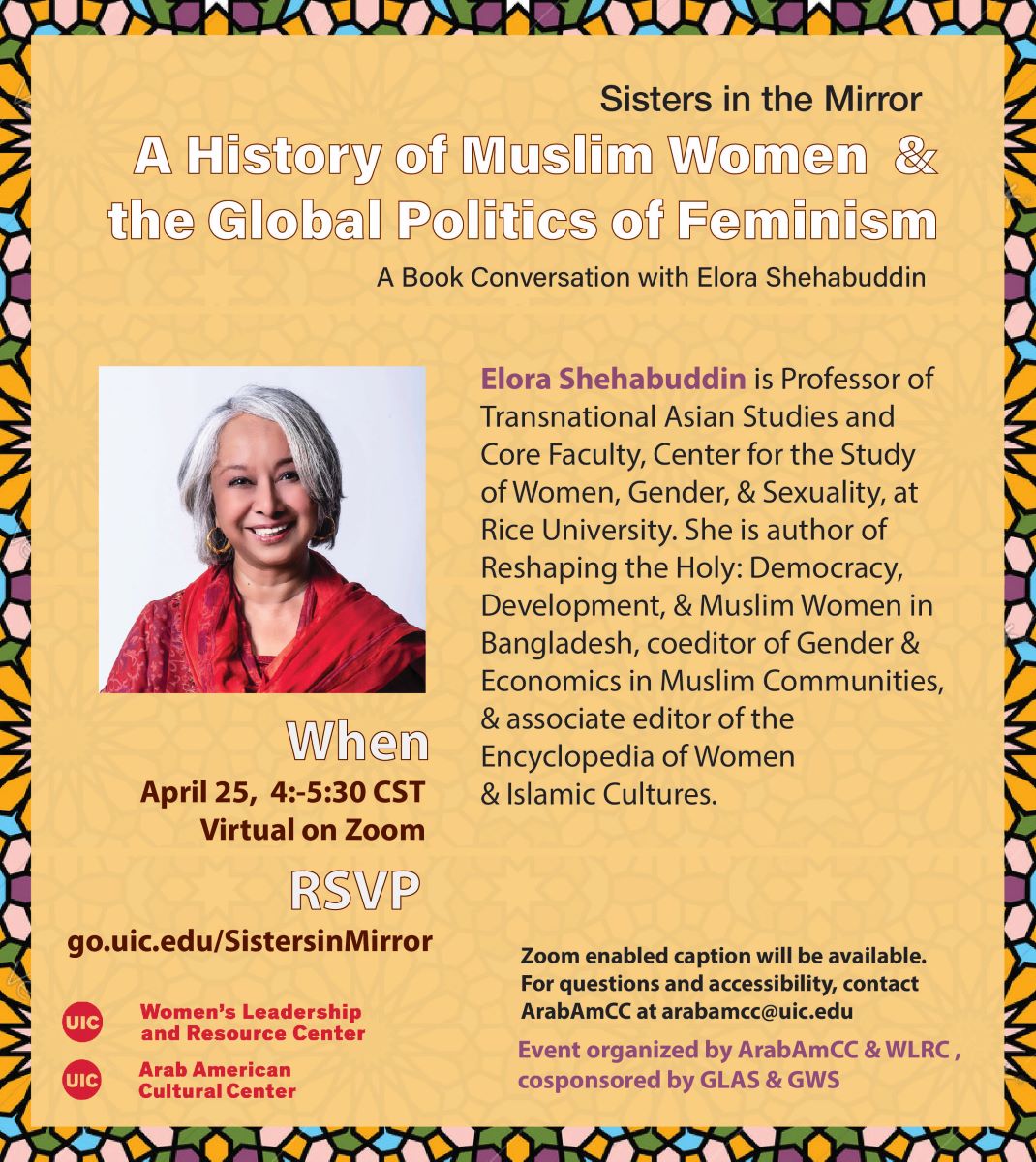 Join the Arab American Cultural Center, the Women's Leadership and Resource Center, and Prof. Nadine Naber for a conversation with Elora Shehabuddin, Professor of Transnational Asian Studies and Core Faculty, at the Center for the Study of Women, Gender, and Sexuality at Rice University, about her new book Sisters in the Mirror: A History of Muslim Women and the Global Politics of Feminism.
About the Book: Stretching from the eighteenth-century Enlightenment era to the War on Terror present, Sisters in the Mirror shows how changes in women's lives and feminist strategies have consistently reflected wider changes in national and global politics and economics. Elora Shehabuddin presents a unique and engaging history of feminism as a story of colonial and postcolonial interactions between Western and Muslim societies. Muslim women have found themselves having to negotiate their demands for rights within other forms of struggle—for national independence or against occupation, racism, and economic inequality. Through stories of both well-known and relatively unknown figures, Shehabuddin recounts instances of conflict alongside those of empathy, collaboration, and solidarity across this extended period. Sisters in the Mirror is organized around stories of encounters between women and men from South Asia, Britain, and the United States that led them, as if they were looking in a mirror, to pause and reconsider norms in their own society, including cherished ideas about women's roles and rights. These intertwined stories confirm that nowhere, in either Western or Muslim societies, has material change in girls' and women's lives come easily or without protracted struggle.
About Author: Elora Shehabuddin is Professor of Transnational Asian Studies and Core Faculty, Center for the Study of Women, Gender, and Sexuality, at Rice University. She is author of Reshaping the Holy: Democracy, Development, and Muslim Women in Bangladesh, coeditor of Gender and Economics in Muslim Communities, and associate editor of the Encyclopedia of Women and Islamic Cultures.
Event is co-sponsored by Global Asian Studies and Gender and Women's Studies
Zoom auto-captioning will be available. For questions or accessibility, contact us at arabamcc@uic.edu or 312-413-3253
RSVP
Contact
Arab American Cultural Center
Date updated
Apr 11, 2022