Apr
8
2020
#RootedinResilience: a photo campaign
April 8 - September 30, 2020
1:00 PM - 1:00 PM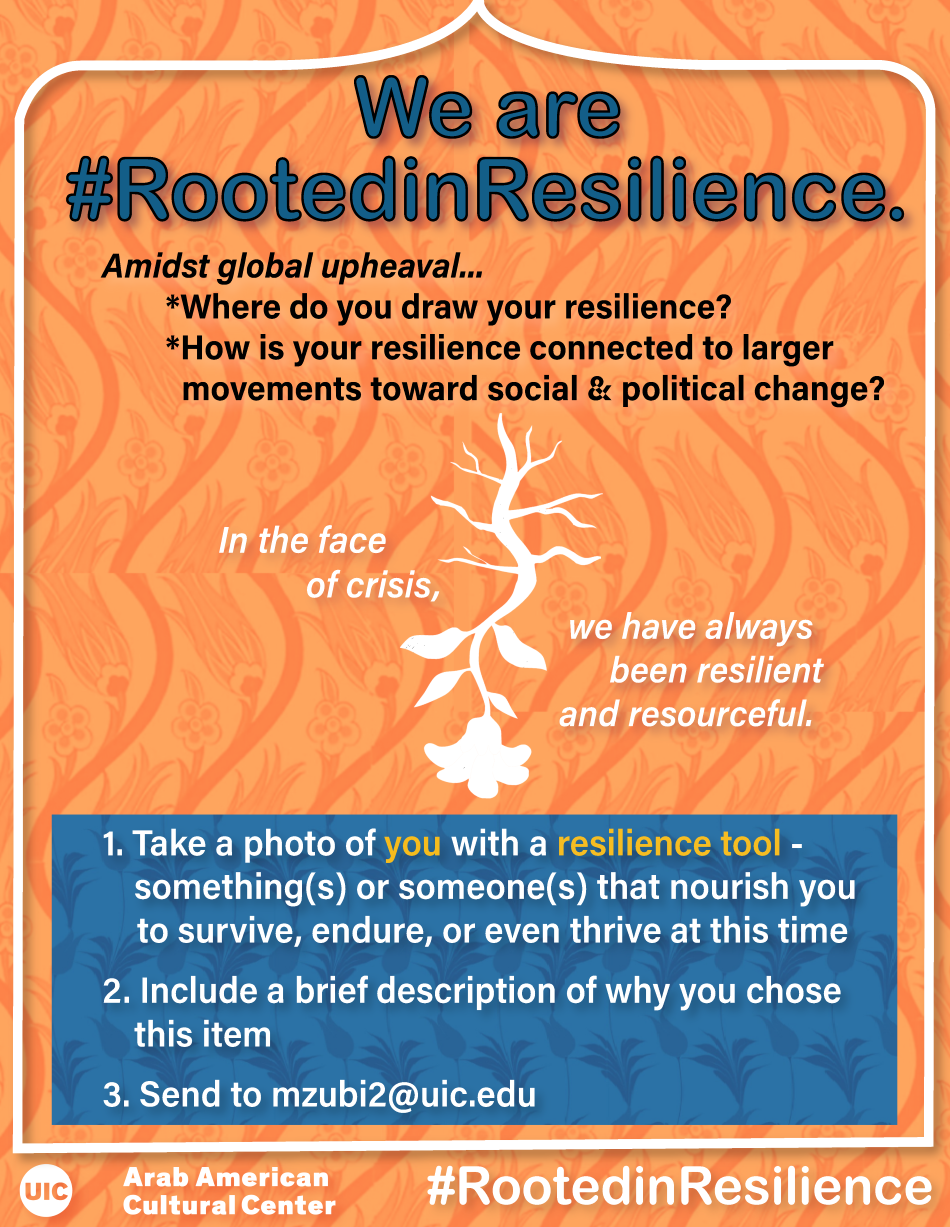 The #RootedinResilience project is a form of storytelling, to collect & connect our modes of living.
While the COVID-19 pandemic has brought "unprecedented" challenges, we—as Arabs and Arab Americans—have seen and felt its precedents: through immigration and displacement, we have been forcibly "distanced" from loved ones across the globe. We have grown up stocked on canned foods amidst war, or we have inherited our families' wartime mentalities: their tools and their traumas. As Arab communities, we have been trapped in our homes before, restricted and surveilled.
In the face of this, we have always been resilient and resourceful.
What tool(s) have you gathered from the past that you hold with you now & that you wish to bring with us, together, into the future?
Guidelines:
Find somewhere you feel comfortable, and snap a photo of you alongside something(s) or someone(s) that have nourished you to survive, endure, or even thrive. e.g, your cooking supplies, tatreez (embroidery), a ventilator, a backgammon set, a sister
Include a brief description (1 or 2 sentences) of your resilience  tool & what it means to you
Introduce your name, pronouns, where you're from, and a note about where you are or what you're doing; e.g, I'm Eiman (pronouns: she/her/hers), I'm Coptic Egyptian from Los Angeles, and I study Sociology at UIC 
Email your photos to mhelmy@uic.edu
Photos will be included on Instagram and Facebook @ArabAmCC
Contact
Arab American Cultural Center
Date updated
Sep 28, 2020