Mar
12
2020
Noche de Poetas: Women, Gender, and Sexuality
March 12, 2020
5:30 PM - 7:30 PM
Location
Latino Cultural Center, Lecture Center B2
Address
803 S. Morgan St., Chicago, IL 60612
Download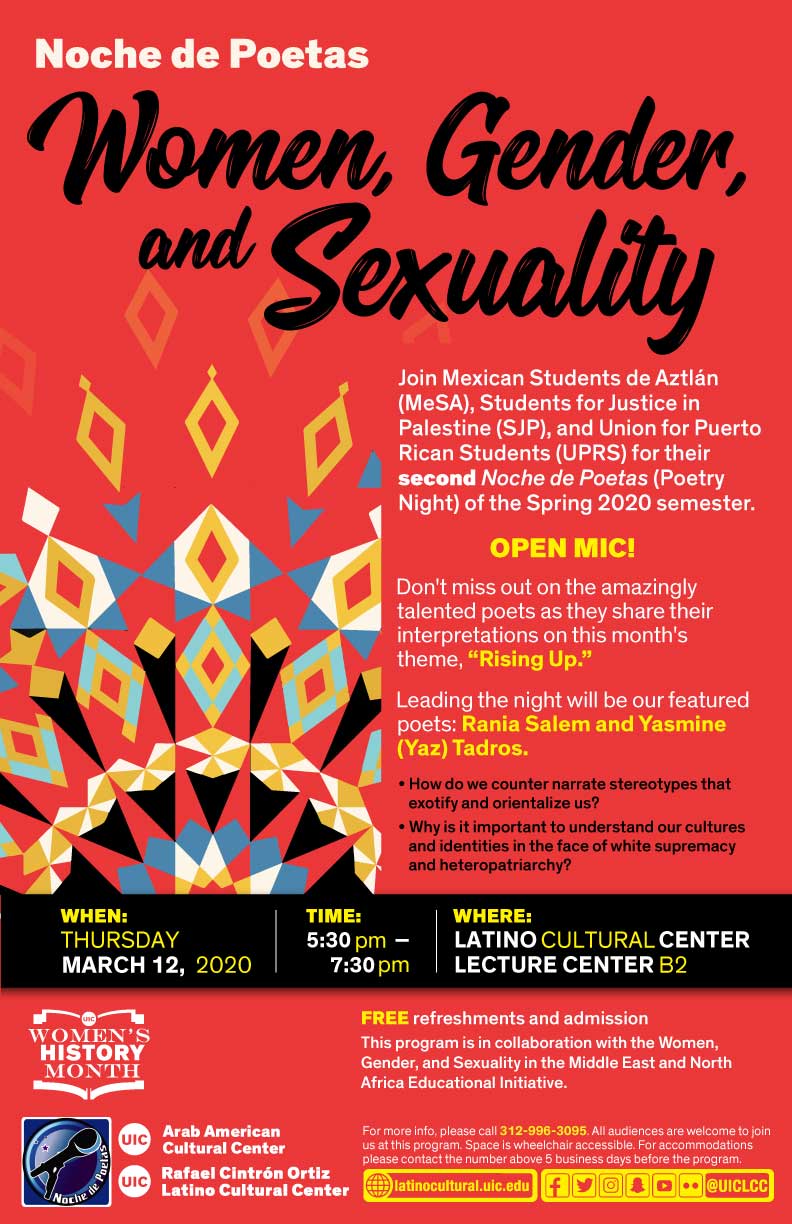 Noche de Poetas: Women, Gender, and Sexuality
Join Mexican Students de Aztlán (MeSA), Students for Justice in Palestine (SJP), and Union for Puerto Rican Students (UPRS) for their second Noche de Poetas (Poetry Night) of the Spring 2020 semester.
OPEN MIC!
Don't miss out on the amazingly talented poets as they share their interpretations on this month's theme, "Rising Up."
Leading the night will be our featured poets: Rania Salem and Yasmine (Yaz) Tadros.
How do we counter narrate stereotypes that exotify and orientalize us?
Why is it important to understand our cultures and identities in the face of white supremacy and heteropatriarchy?
FREE refreshments and admission
Both featured poets are current graduate students at UIC.
This program is in collaboration with the Women, Gender, and Sexuality in the Middle East and North Africa Educational Initiative.
For more info, please call the number below.
All audiences are welcome to join us at this program. Space is wheelchair accessible. For accommodations contact the number above 5 business days before the program.
Contact
Arab American Cultural Center
Date updated
Feb 24, 2020