Feb
5
2020
Nadi Al-Cinema (Film Series): Three Veils by Rolla Selbek
Nadi Al-Cinema: Film Series
February 5, 2020
3:15 PM - 5:00 PM
Location
Arab American Cultural Center 111 Stevenson Hall
Address
701 S Morgan St., Chicago, IL 60607
Download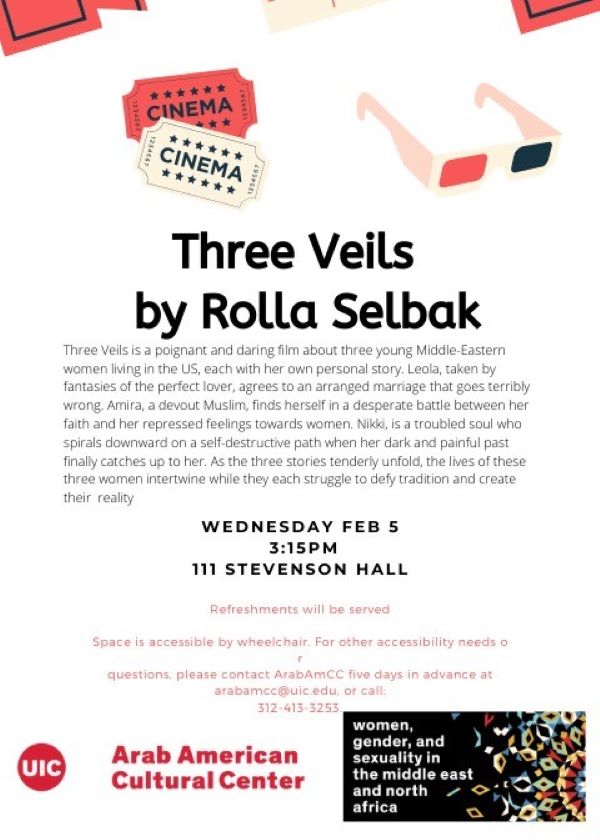 Nadi Al-Cinema (Film Series): Three Veils by Rolla Selbek
part of the Women, Gender, and Sexuality in the Middle East and North Africa and Diasporas Educational Initiative
About the Film:
Three Veils is a poignant and daring film about three young Middle-Eastern women living in the US each with her own personal story. Leola, taken by fantasies of the perfect lover, agrees to an arranged marriage that goes terribly wrong. Amira, a devout Muslim, finds herself in a desperate battle between her faith and her repressed feelings towards women. And Nikki, a troubled soul who spirals downward on a self-destructive path when her dark and painful past finally catches up to her. As the three stories tenderly unfold, the lives of these three women intertwine while they each struggle to defy tradition and create their own realities.
About the Filmmaker:
Rolla Selbak is a Sundance 2017 filmmaker, and a triple- minority in the film industry: a queer, Muslim-American woman. She is a writer/director of film and TV drama, and is known for bringing strong female characters to the forefront of her work. She imprints her fresh point of view as a queer Arab immigrant having moved to the U.S after the first Gulf War, and often focuses on socially controversial topics.
Popcorn will be provided
Space is accessible by wheelchair. For additional needs to questions, please contact us at arabamcc@uic.edu or call at 312-413-3253
Contact
Arab American Cultural Center