Feb
27
2020
Nadi Al-Cinema (Film Series): Feminism Inshallah
Nadi Al-Cinema: Film Series
February 27, 2020
3:15 PM - 5:00 PM
Location
Arab American Cultural Center 111 Stevenson Hall
Address
701 S Morgan St., Chicago, IL 60607
Download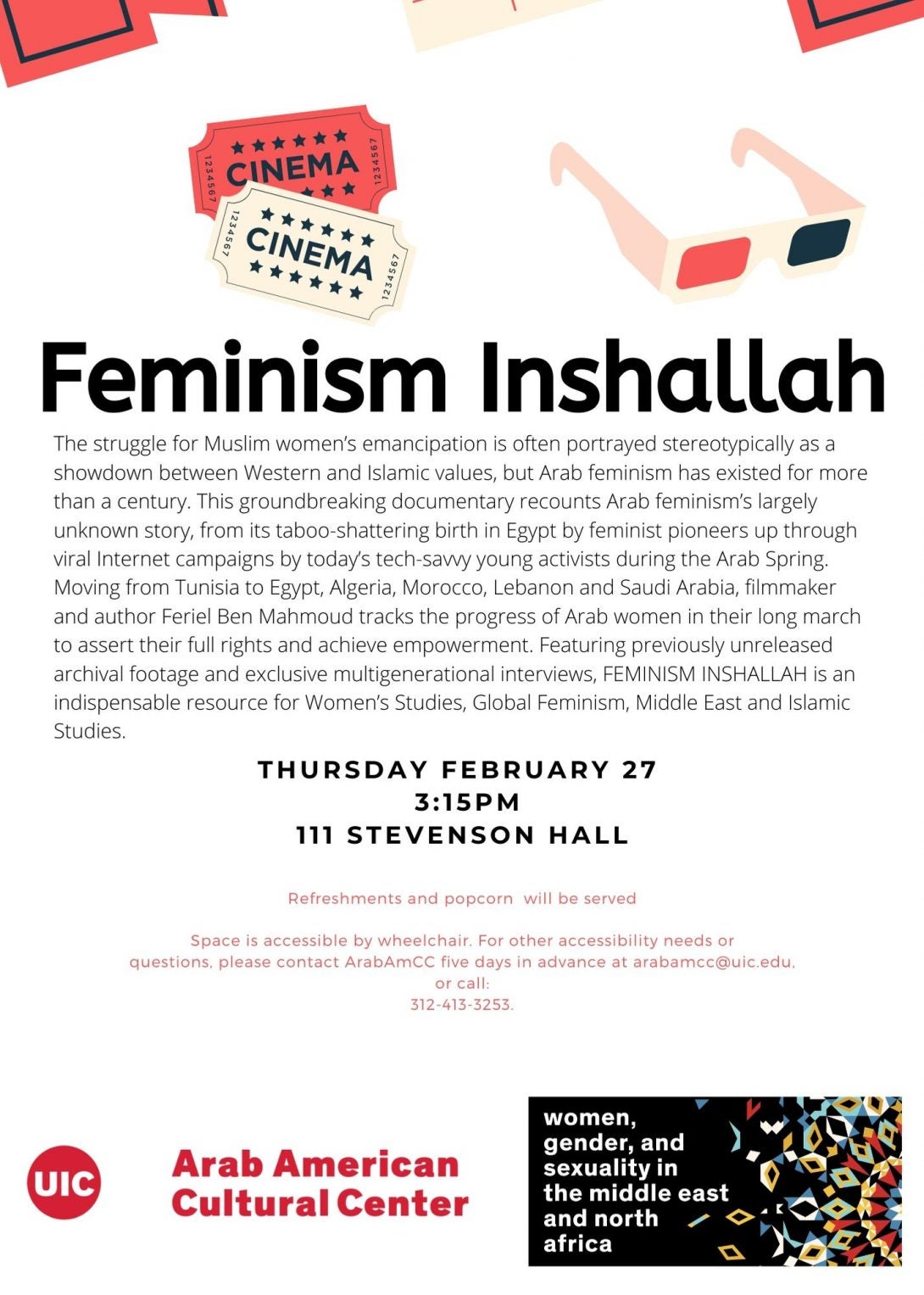 Nadi Al-Cinema (Film Series): Feminism Inshallah by Feriel Ben Mahmoud
part of the Women, Gender, and Sexuality in the Middle East and North Africa and Diasporas Educational Initiative
About the Film:
The struggle for Muslim women's emancipation is often portrayed stereotypically as a showdown between Western and Islamic values, but Arab feminism has existed for more than a century. This groundbreaking documentary recounts Arab feminism's largely unknown story, from its taboo-shattering birth in Egypt by feminist pioneers up through viral Internet campaigns by today's tech-savvy young activists during the Arab Spring. Moving from Tunisia to Egypt, Algeria, Morocco, Lebanon and Saudi Arabia, filmmaker and author Feriel Ben Mahmoud tracks the progress of Arab women in their long march to assert their full rights and achieve empowerment. Featuring previously unreleased archival footage and exclusive multigenerational interviews, FEMINISM INSHALLAH is an indispensable resource for Women's Studies, Global Feminism, Middle East and Islamic Studies.
About the Filmmaker:
Feriel Ben Mahmoud specializes in books and documentaries on women's rights in the Arab world. Previous films include: Tunisia: Year Zero, Children of the Moon and Tunisia: A History of Women. Published books include: Tunisie, Un Siecle D'Images (1857-1956), L'Algerie Au Temps Des Francais, Un Siecele D'Images and Voyage Dans L'Empire Colonial Francais.
Popcorn will be provided
Space is accessible by wheelchair. For additional needs to questions, please contact us at arabamcc@uic.edu or call at 312-413-3253
Contact
Arab American Cultural Center
Date updated
Feb 13, 2020