Oct
27
2021
Muslim Chaplaincy at UIC: A Conversation
October 27, 2021
4:00 PM - 5:00 PM
Location
Virtual via Zoom
Address
Chicago, IL 60612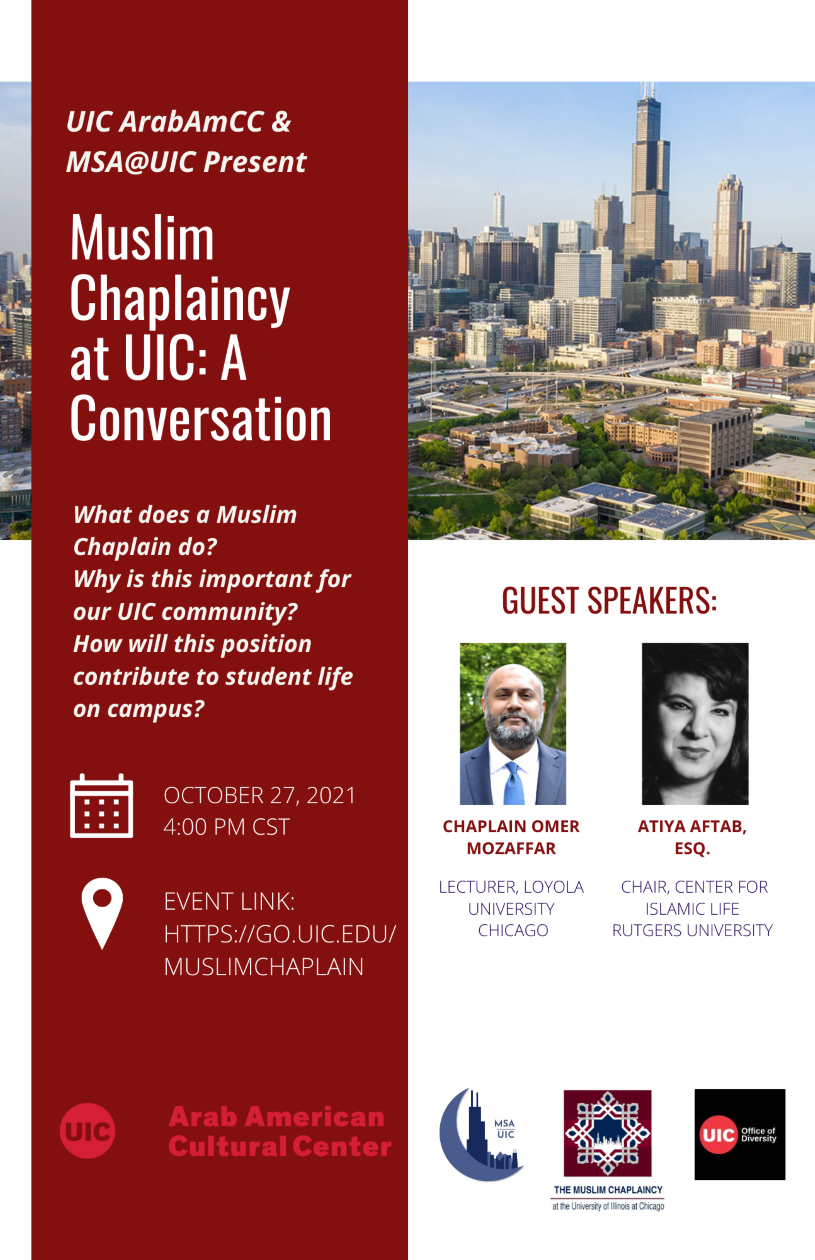 The UIC Muslim Chaplaincy Planning Team, the Arab American Cultural Center, the Office of Diversity, Equity & Engagement, and the Muslim Student Association, invite you to a conversation about the potential of a UIC Muslim Chaplaincy. What does a Muslim Chaplin do? What role or roles does a Muslim Chaplain play on a college campus? What contributions can a Muslim Chaplain bring to our campus? Listen to our speakers who have created similar positions or occupy such positions at their campuses.
Omer M. Mozaffar, Muslim Chaplain at Loyola University and Lecturer in Departments of Theology and Modern Languages and Literatures.
Atiya Aftab, Edq. Chair of the Center for Islamic Life and Adjunct Professor in Department of Political Science and Middle Eastern Studies at Rutgers University.
RSVP below to receive a zoom link
Zoom captioning will be use. For questions or additional accessibility, contact arabamcc@uic.edu
Speakers Bios:
Atiya Aftab, Esq.  has her own practice, is also the Chair of the Center for Islamic Life at Rutgers University, convener of the first full-time Muslim Chaplaincy on campus. She is a member of the Rutgers University Board of Overseers that governs the Rutgers University Foundation. Atiya is also an Adjunct Professor at Rutgers University, Department of Political Science and Middle Eastern Studies Program and teaches "Islamic Law and Jurisprudence".  She is the co-founder and chair emeritus of the Sisterhood of Salaam Shalom, an international women's interfaith organization. She has been a member of the Islamic Society of Central Jersey's (ISCJ) Board of Trustees and Overseers for 20 years and was the first woman chair of the board.  She co-found the New Jersey Muslim Lawyer's Association and has been its Vice-President and Treasurer.  She was an active member and chair of the Islamic Society of North America's Masjid Development Committee and is also a co-founder of the Shia Sunni Alliance of NJ.  Atiya is a Fellow with the Arianne de Rothschild Fellowship and completed a certificate program with KARAMAH, Muslim women's human rights organization. Atiya was a member of Attorney General Peter Harvey's Arab and Muslim Advisory Committee (Chair, Education and Training for Law Enforcement Subcommittee) and was a member of the New Jersey Supreme Court Committee on Minority Concerns for 10 years. She was also chair of the South Brunswick Women's Commission and was responsible for organizing its yearly leadership conference for 10 years. Atiya received her Bachelor of Arts Degree, Phi Beta Kappa, in 1988, majoring in Political Science (Pi Sigma Alpha) from Rutgers College.  She went on to Rutgers Law School in Newark and graduated with her Juris Doctorate Degree in 1991.
Omer Mozzafer is the Muslim Chaplain at Loyola University. He addresses theological, personal, social matters for students of all sectarian outlooks. During the school year, he also runs classes on Scripture, Student Life, and other matters. He has received Islamic studies training both through traditional and academic sources. He is a Lecturer in the Departments of Theology and Modern Languages and Literatures. He has taught at the University of Chicago and DePaul University, among other schools. He has taught courses on the Qur'an, the Sira, the Hadith, Islamic Law, Spirituality/Purification, Islamic revivalism, Islam and Politics, Sectarianism, al-Ghazali, Rumi, Iqbal, Arabic, Film, and Comparative religions. In 2011, he was granted an "Excellence in Teaching Award in Humanities, Arts, and Sciences" through the University of Chicago's Graham School. For over two decades he has been giving sermons and leading classes at Islamic centers all across Chicagoland. In 2009, the late film critic Roger Ebert named Omer one of his "Far Flung Correspondents." Omer has been writing film essays for RogerEbert.com. In 2018, he began writing as a columnist for the Chicago Sun-Times in its "Just Relations" series.
RSVP
Contact
Arab American Cultural Center
Date updated
Oct 20, 2021