Oct
18
2021
Arabs in STEM: Histories and Present Opportunities
October 18, 2021
5:00 PM - 8:00 PM
Location
Illinois Room, SCE
Address
750 S Halsted St, Chicago, IL 60607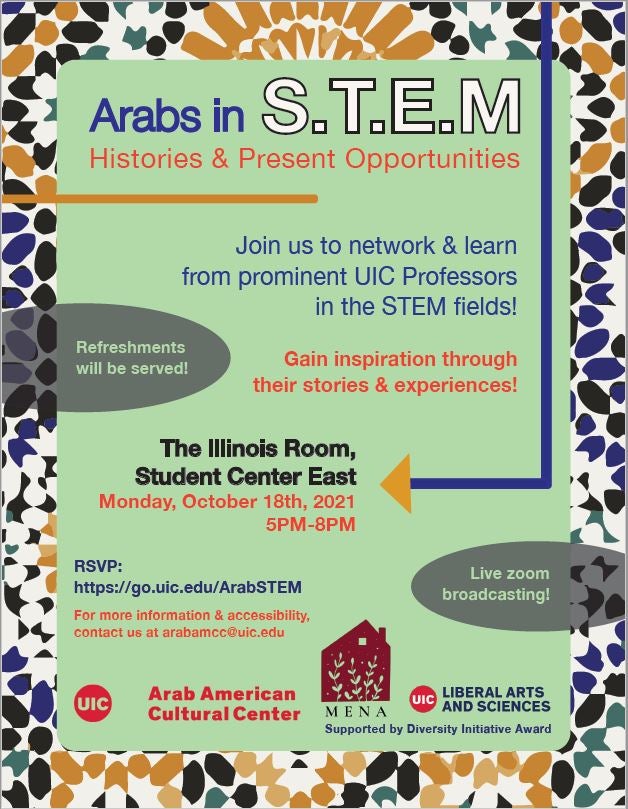 Join us to network and learn from prominent UIC researchers and professors in STEM fields. They will share best practices, their experiences and contributions. We will also have a space dedicated to networking and building relationship.
Event is funded in part by the Diversity Initiative Award of the College of Letters, Arts, and Sciences and co-sponsored by MENA, Grad Student Organization.
RSVP below to get more information on program and virtual option.
For questions and accessibility, contact us at arabamcc@uic.edu
Refreshments will be served
Speakers Include:
Besma Smida is an Associate Professor of electrical and computer engineering at UIC. After completing her appointment as a Post-Doctoral Researcher and later a Lecturer at Harvard University, she became an Assistant Professor of electrical and computer engineering with Purdue University Northwest. She received the M.Sc. and Ph.D. degrees from the University of Quebec (INRS), Montreal, QC, Canada. She was a Research Engineer with the Technology Evolution and Standards Group of Microcell, Inc., (now Rogers Wireless), Montreal. She took part in wireless normalization committees (3GPP, T1P1). She has served as the Chair for Institute of Electrical and Electronics Engineers' (IEEE) Women in Engineering, Chicago Section, from 2011 to 2013, and has been the Chair of IEEE Communication Chapter, Chicago Section, since 2019. She currently serves as Editor for the IEEE Transactions on Wireless Communications, Editor of the IEEE Open Journal of the Communications Society, and a Guest Editor of Sensors Open Access Journal. She is a Communication Society Distinguished Lecturer for 2021-2022. She was awarded the INSIGHT Into Diversity Magazine's 2015 100 Inspiring Women in STEM. She received the Academic Gold Medal of the Governor General of Canada in 2007 and the NSF CAREER award in 2015. Her research focuses on In-band Full-Duplex systems and applications, backscatter modulation, IoT, and two-way communication networks.
Enas Matari Abunaser is Visiting Lecturer at the Physics department in the College of Liberal Arts and Sciences at UIC and adjunct professor of Physics at Moraine Valley Community College. Enas is originally from Palestine, born in Libya and raised in Jordan. She received her BS in physics from the University of Jordan and her PhD in Condensed Matter Physics from UIC. She also has a certificate for reading and teaching the Quran. She is assistant principle at the Al-Siddiq school and a Qur'an teacher at MAS Quran Institute.
Sarah Abboud, PhD, RN, is an assistant professor in the Department of Human Development Nursing Science in the College of Nursing at UIC, and a Visiting Faculty Fellow at the Center for Research on AIDS at Yale University's School of Public Health. Her research is focused on the promotion of sexual health at the intersections of ethnicity, sexuality, gender, and immigration among immigrants, ethnic minorities, sexual and gender minorities in the United States, in particular Arabs and Arab Americans, and in Lebanon. Dr. Abboud has extensive expertise in sexual health, qualitative research methods, mixed methods, and community-based participatory research approaches. Her work is informed by social justice, intersectionality, and health equity frameworks.
Nadia Kawar, DDS, MS is a Clinical Professor in Periodontology in the College of Dentistry at UIC. Nadia received her Degree in Dental Surgery from the University of Jordan and her specialty training in Periodontics and a Masters Degree in Dental Sciences from St. Louis University. After graduation, Dr. Kawar practiced as a Periodontist in the VA Lovell Medical Center in Chicago as well as in private practice in the Chicagoland area. Dr. Kawar was the recipient of the American Academy of Periodontics Teaching Award, and the Teaching Recognition Program Award and Jon Daniel Teaching Award from UIC. Her research interests include the association of periodontal disease and incidence and severity of COVID-19 infection and the association of periodontal and oral diseases with systemic health disease.
Saleh Hamdan is Lecturer in the Department of Mathematics, Statistics, and Computer Science in the Liberal Arts and Sciences at UIC. Saleh received his PhD in Theoretical Physics and an MS in Pure Mathematics from UIC. He also received two BS degrees in Physics and Applied Mathematics from North Carolina State University. Saleh is passionate about physics and math and enjoys guiding students through their learning process and communicating science and mathematics to new learners. His recent research focuses on medical physics, but he has studied a wide range of topics including dark matter, particle cosmology, biophysics, and mathematical physics. He has published in numerous scientific journals.
RSVP
Contact
Arab American Cultural Center
Date updated
Oct 15, 2021