Apr
13
2022
Arab/MENA Mindfulness Research Study
Wellness Series
April 13 - 19, 2022
4:00 PM - 6:00 PM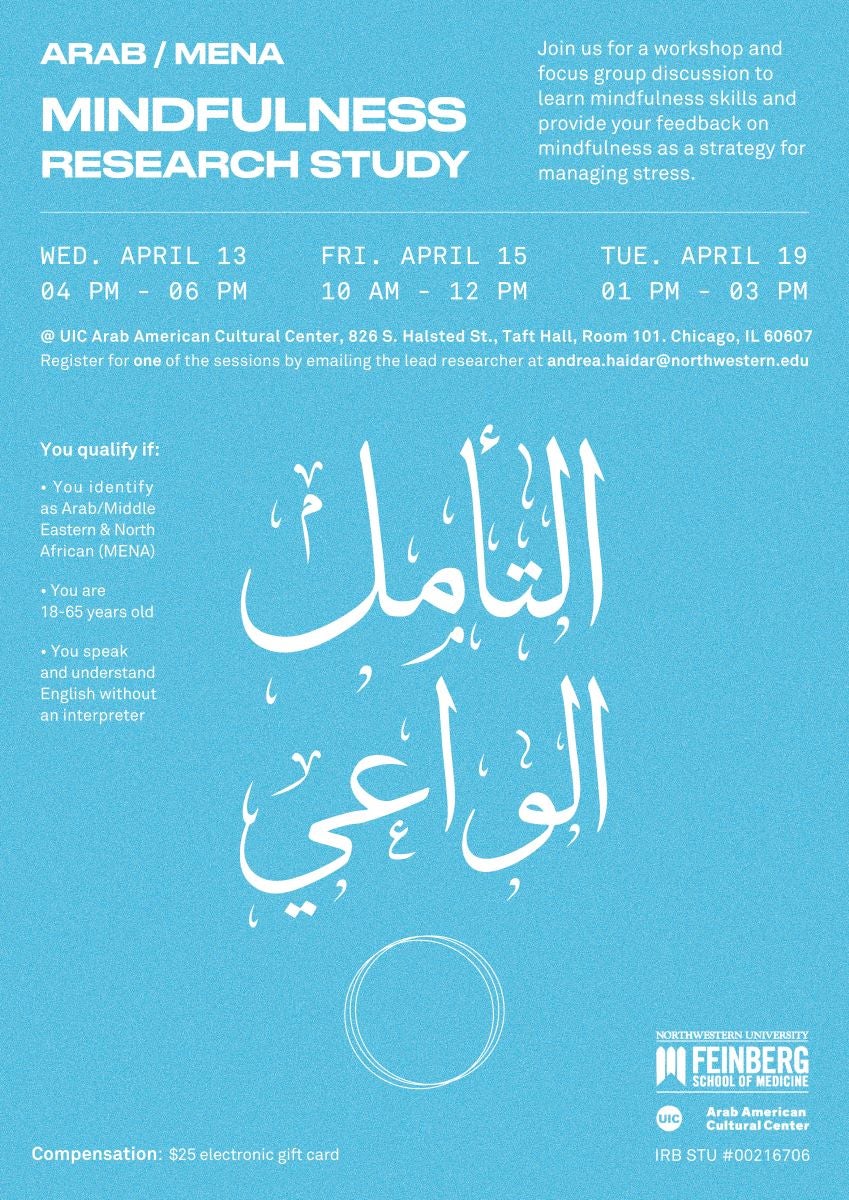 Join us for a workshop and focus group discussions to learn mindfulness skills and provide your feedback on mindfulness as a strategy for managing stress.
You qualify if:
you identity as Arab/Middle Eastern and North African (MENA)
You are 18-65 years old
you speak and understand English without an interpreter
Sessions to choose from:
April 13, 4-6 pm
April 15 10-12 pm
April 19 1-3 pm
Participants will be compensated $25 electronic gift card.
Andrea Haidar is a licensed clinical social worker and a doctoral student in clinical psychology at the Northwestern University Feinberg School of Medicine. Her work is focused on increasing the accessibility of mental health services within culturally diverse communities and she is particularly interested in trauma-informed care and mindfulness. Andrea's research interests are informed by her applied experience working with immigrants, refugees in the U.S. and in Jordan, and individuals from racial and ethnic minority backgrounds. She previously worked as a therapist at the Inner-City Muslim Action Network (IMAN), providing services in English, Spanish, and Arabic. Andrea holds a master's degree in social work from the University of Chicago, where she also completed her undergraduate studies in sociology. Andrea is a recipient of national awards including the Truman Scholarship, the Fulbright Scholarship, and the Critical Language Scholarship.
To register, email Lead Researcher, Andrea Haidar at andrea.haidar@northwestern.edu
Contact
Arab American Cultural Center