Feb
9
2021
Arab Americans: Invisibility in Racial Categories
February 9, 2021
5:30 PM - 7:00 PM
Location
Virtual via Zoom
Address
Chicago, IL 60612
Download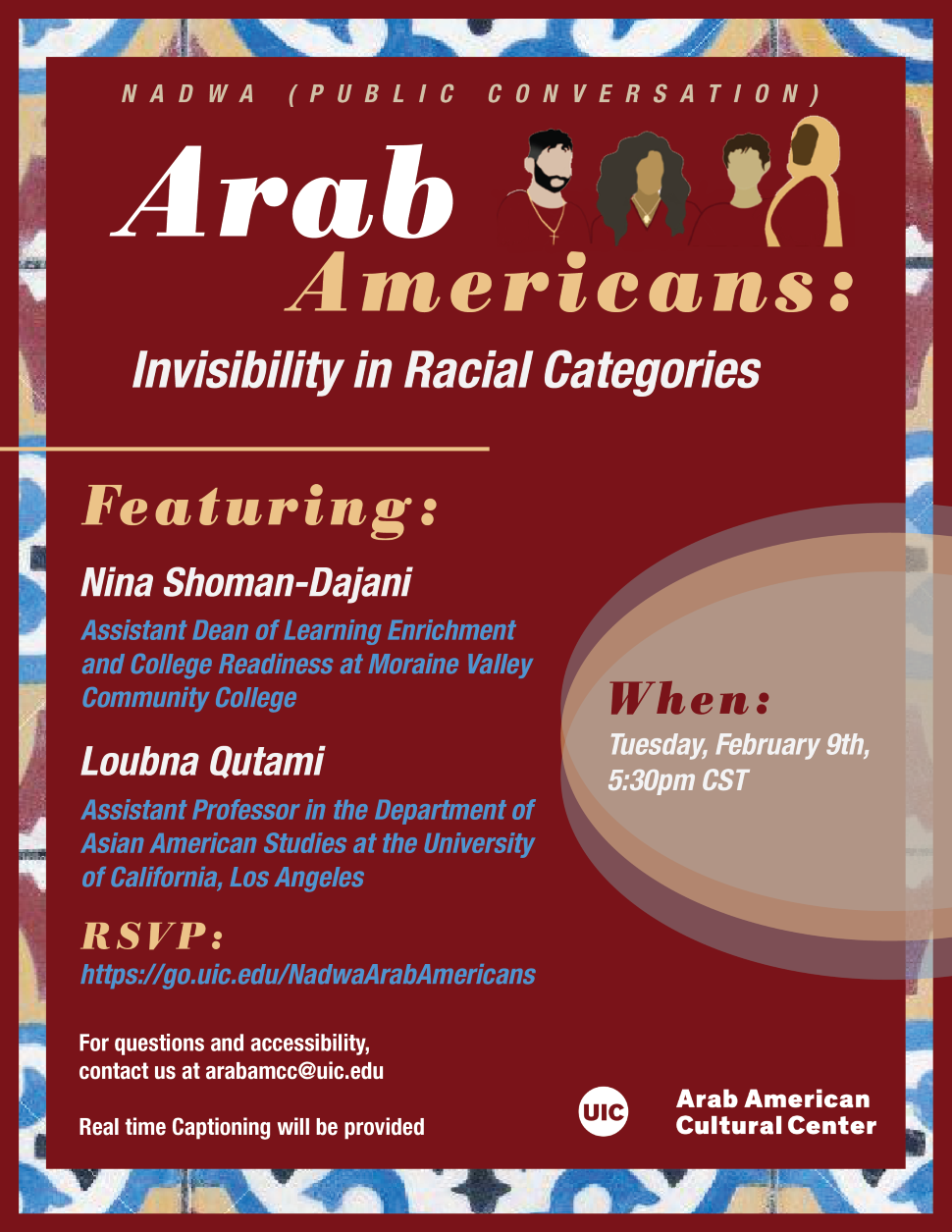 Join us for a presentation and a discussion about the Invisibility of Arab Americans in Racial Categories and the implications for our students and our communities.
Featuring:
Nina Shoman-Dajani: Assistant Dean of Learning Enrichment and College Readiness at Moraine Valley Community College in the southwest suburbs of Chicago. At Moraine, she oversees the English as a Second Language and Citizenship, which serve hundreds of students from forty-five countries, along with the high school equivalency (GED) program. For the last decade, she has volunteered as the advisor for the Arab Student Union, a student organization which organizes initiatives to educate fellow students and the campus community about Arab Americans and Arab culture and traditions. Dr. Shoman-Dajani has also taught courses in Middle East Studies at a number of Chicagoland schools including UIC. Prior to her work at Moraine Valley, Dr. Shoman-Dajani served as a Family Literacy Coordinator at the Arab American Action Network, a non-profit social service agency in Chicago. Dr. Shoman-Dajani completed her Doctor of Education degree at Benedictine University in Higher Education and Organizational Change. Her doctoral research focused on the racial identity construction of Arab American college students.
Loubna Qutami: Assistant Professor in the Department of Asian American Studies at the University of California, Los Angeles. Qutami is a former President's Postdoctoral Fellow from the Department of Ethnic Studies at the University of California, Berkeley (2018-2020) and received her PhD from the Department of Ethnic Studies at the University of California, Riverside (2018). Qutami's research examines transnational Palestinian youth movements after the 1993 Oslo Accords through the 2011 Arab Uprisings. Qutami is also the former Executive Director of the Arab Cultural and Community Center in San Francisco and the former International General Coordinator for the Palestinian Youth Movement (PYM)
RSVP below to receive a zoom link for the event.
Real time captioning will be provided.
Contact
Arab American Cultural Center
Date updated
Feb 10, 2021