May
12
2022
Arab American Graduation 2022
May 12, 2022
5:30 PM - 8:30 PM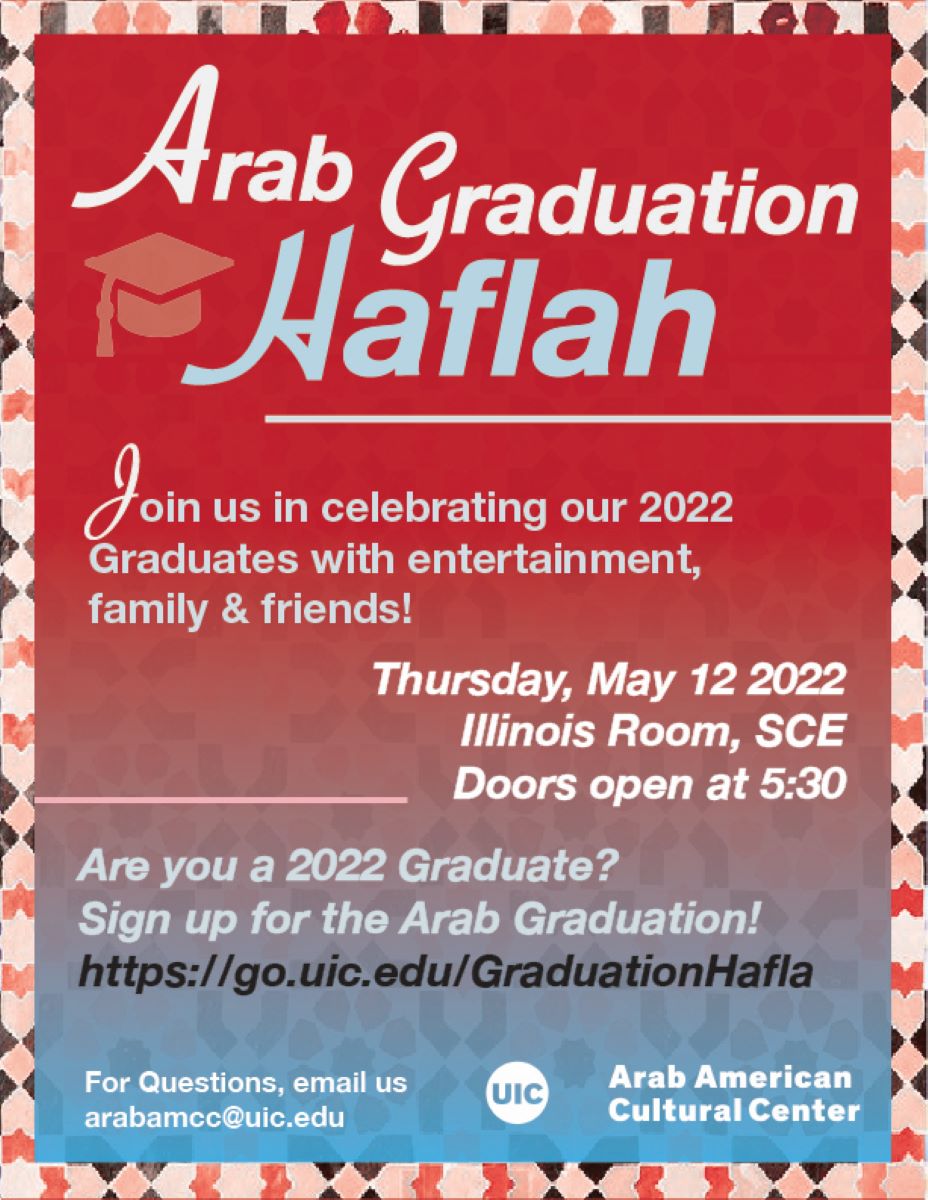 Join the Arab American Cultural Center in our Annual Haflah: Arab American Graduation to celebrate the our 2022 graduates and their accomplishments.
Keynote Address by Dr. Rolla Sweis, UIC Alumni, PharmD in Pharmacy, Vice President of Operations at South Chicagoland Advocate Hospitals
Music program by THع ARAB BLцES (Karim Nagi and Rami Gabriel)
Student speakers, poetry and more
Event will be held in Illinois Room at Student Center East.
Space is accessible by wheelchair.
For questions and accessibility, email us at arabamcc@uic.edu or call at (312) 413-3253
Dr. Rolla Sweis
Dr. Rolla Sweis is currently the Vice President of Operations for the South Chicagoland Advocate Hospitals which include Christ Medical Center, South Suburban Hospital, and Trinity Hospital. Rolla holds a Doctorate of Pharmacy from the University of Illinois (Class of 2002) and a Master's in Organizational Leadership. She started her career as a clinical pharmacist in 2002 at South Suburban Hospital and then became an emergency medicine pharmacist at Christ Medical Center.  While in that role she started an emergency medicine pharmacy residency program which was the only one program in the state for several years. Rolla received two ASHP Best Practices Awards for her work in the Emergency Department in 2006 and 2008.   She then became the pharmacy manager and later director of pharmacy at Christ Medical Center. Rolla then served as the Executive Director of Pharmacy where she oversaw multiple advocate hospitals, specialty pharmacy, and ambulatory pharmacy services. In 2018, she became the Vice President of Operations at Christ Medical Center and in 2020 expanded into overseeing the South Chicagoland Region. In her recent roles she has optimized hospital operations, improved staff and patient engagement, grown clinical and surgical services, led multiple design and construction projects, and most recently, led the hospitals during the pandemic including the set-up of two mass COVID vaccination sites.  Rolla is a Board Member of MedGlobal and Live4lali, and an Advisory Board Member for Health Connect Partners. She is a member of ICHP, ASHP, and ACHE.
THع ARAB BLцES
The Arab Blues traces a trajectory between tradition and innovation, we embody the call of tradition and the response of the diaspora. The synthesis Rami and Karim create is an auditory expression of not only the power and persistence of tradition but equally the validity of its transformation under the unique cultural conditions we inhabit. The basis of our work is the Turath, the canon of classical Arab compositions and improvisational techniques. This rich heritage consists of melodic and rhythmic exposition and instrumental interaction at countless levels of depth. We interpret these forms in the context of the sounds of the contemporary North American metropole. In this project, the equally lush traditions of Blues and Jazz in Chicago provide the context of how we approach and assimilate the Turath. This marriage of forms is fruitful because of the emotional range of the Blues and the improvisational flexibility and ingenuity of Jazz.
The Arab Blues was developed by Lebanese-Egyptian oud and guitar player Rami Gabriel through a research fellowship at the Center for Black Music Research, two Illinois Artist grants, and a decade of experience as a jazz and blues musician in Chicago. Native Egyptian percussionist Karim Nagi, a 2-time beneficiary of the Doris Duke Building Bridges grant for Muslim Artists, a TEDx speaker, and accomplished teacher completes this duo with his energetic & lyrical rhythms on Riqq, Tublah and alternatively assembled drum-set.
If you are graduating Spring 2022 or Fall 2022 (undergraduate and graduate students) and would like to be recognized, sign up here: go.uic.edu/GraduationHafla
Graduating students will receive a tassel, stole, and certificate.
Contact
Arab American Cultural Center